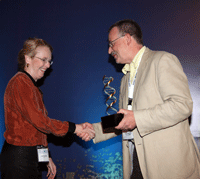 Susan Folstein, M.D., left, receives the Lifetime Achievement Award, a golden DNA helix, from Nicholas Craddock, chairman of the World Congress on Psychiatric Genetics.
Susan E. Folstein, M.D., Receives Lifetime Achievement Award
Susan E. Folstein, M.D., a pioneer in genetic studies of autism, is the 2010 recipient of the Ming Tsuang Lifetime Achievement Award bestowed by the International Society of Psychiatric Genetics.
The award, presented at the society's XVIIIth World Congress of Psychiatric Genetics, held in Athens, Greece, earlier this month, honors a scientist who has made a major contribution to the advancement of the field of psychiatric genetics.
Now a Miller School researcher, clinician and founder of the University of Miami Autism Clinic, Dr. Folstein conducted the first systematic study of twins, one or both of whom had autism, while working in England as a research fellow for Great Britain's Michael Rutter, M.D. Their 1977 paper demonstrated for the first time that autism had a genetic cause.
"Her work was very influential in changing prevailing social and medical views of autism from a search for problems in family dynamics to our modern understanding of autism as a developmental brain disorder,'' said John Nurnberger Jr., M.D., Ph.D., the Joyce and Iver Small Professor of Psychiatry at Indiana University School of Medicine and chair of the society's prize committee.
"Over the years, she continued her studies of the phenotype in autism, that is the clinical picture of the disorder as it varies from one patient to another,'' Nurnberger continued. "She has also played a major role in developing multicenter collaborations on the genetics of autism, which we realize now to be the only effective model for understanding the interaction of multiple factors in the development of this condition, and in the design of new treatment strategies.''
After returning to the U.S. from England, Folstein began her genetics training at The Johns Hopkins University School of Medicine, where she became the first woman elevated to professor of psychiatry and founded the Division of Psychiatric Genetics.
She also was instrumental in establishing the Autism Genetics Cooperative, the forerunner to the Autism Genome Project, a worldwide consortium of clinicians and scientists dedicated to identifying the genetic factors underlying autism.
After more than two decades at Hopkins and one at Tufts University School of Medicine, Dr. Folstein joined the Miller School earlier this year to open the UM Autism Clinic, which provides psychiatric services to children and adults on the autism spectrum who have concurrent psychiatric symptoms or disorders.
Dr. Folstein is the 12th recipient and only second woman to receive the award, named for Ming T. Tsuang, M.D., Ph.D., D.Sc., a world-renowned leader in the genetics of schizophrenia, bipolar disorder and substance abuse who directs the Center for Behavioral Genomics at the University of California, San Diego School of Medicine.