DOCS Clinic Opens at Overtown Shelter for Homeless Women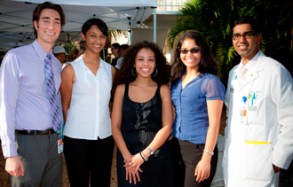 The Lotus House DOCS staff, from left, Michael Spertus, Rujuta Pandya, Elishia McKay and Janki Amin, and previous Lotus House project manager Prabhat Mishra celebrated the grand opening of the Lotus House Wellness Center last week.
After years of planning, the student-run organization that informally began bringing health care to underserved communities nearly 40 years ago celebrated the grand opening Thursday of a wellness clinic at the Lotus House, a sanctuary for homeless women and children in Overtown.
Beginning this Thursday, the Lotus House Wellness Center, the third community-based clinic in South Florida staffed by Miller School faculty and medical students through the Mitchell Wolfson Sr. Department of Community Service, or DOCS, will offer gynecological screenings and other women's health services once every other week at the shelter.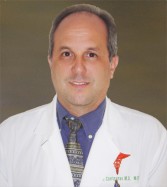 Gabriel Contreras, M.D., M.P.H.
New Study Shows Cholesterol Counts in Kidney Disease
To understand the health effects of high cholesterol levels, doctors first need to assess malnutrition and inflammation status in their chronic kidney disease patients, according to a study appearing in an upcoming issue of the Journal of the American Society of Nephrology.
Patients with chronic kidney disease often develop and die from cardiovascular disease. While it's well known that high cholesterol puts people at risk for cardiovascular disease in the general population, the relationship is not as clear in chronic kidney disease patients. In fact, research has shown that dialysis patients with higher cholesterol levels die at a lower rate than those with lower cholesterol levels. It's not that high cholesterol is beneficial; rather, the higher levels may indicate a lesser degree of malnutrition and inflammation, two serious and interrelated complications of kidney disease.
To see whether malnutrition or inflammation might modify the relationship of cholesterol and cardiovascular disease, Gabriel Contreras, M.D., M.P.H., professor of medicine at the Miller School and Lawrence Appel, M.D., from the Welch Center for Prevention, Epidemiology and Prevention, Johns Hopkins University, and colleagues studied 990 African-Americans with hypertension and chronic kidney disease who were not yet on dialysis, 31 percent of whom had malnutrition and/or inflammation.
Margaret Pericak-Vance, Ph.D.
New Gene Associated with Increased Risk of Alzheimer's Disease
Researchers have identified a gene that appears to increase a person's risk of developing late-onset Alzheimer's disease (AD), the most common type of the disease. Abbreviated MTHFD1L, a gene on chromosome six, was identified in a genome-wide association study by a team of researchers led by Margaret Pericak-Vance, Ph.D., director of the John P. Hussman Institute for Human Genomics at the Miller School. Details appeared September 23 in the open-access journal PLoS Genetics.
The World Health Organization estimates that there are currently 18 million people worldwide with Alzheimer's disease, and this figure is projected to nearly double to 34 million by 2025. By looking at gene variation throughout the human genomes of 2,269 subjects with late-onset AD and 3,107 without the disease, researchers were able to pinpoint small differences in the genetic sequences of people with and without AD.
The study found that individuals with a particular variation in the gene MTHFD1L may be almost twice as likely to develop AD as those people without the variation.
Dean Pascal J. Goldschmidt, M.D., assists as Evril Antoine, R.N., gives Marc Lippman, M.D., his flu shot.
Flu Vaccine Campaign Now Underway at the Miller School
Yes, the needle prick into the deltoid smarts for a second. And no, you won't get a lollipop. (Candy was axed from the budget.) But, as the Miller School's executive leadership learned last week, getting a flu shot is relatively painless and quick, cheerfully and efficiently administered for free at various locales around campus by nurses like Evril Antoine, R.N.
As Dean Pascal J. Goldschmidt, M.D., told Antoine after shedding his lab coat, rolling up his sleeve and baring his arm, "I don't even feel it. You're really, really good."
With the largest order ever of the influenza vaccine in hand, the 2010-11 influenza vaccination campaign officially started September 16, and Dean Goldschmidt and Rafael Campo, M.D., professor of clinical medicine and medical director of employee health for the University of Miami Health System, are counting on even greater participation than last year, when nearly 7,000 doses of the seasonal and H1N1 vaccine were administered at employee health offices.
Ransom Students Learn About Concussions and ImPACT Testing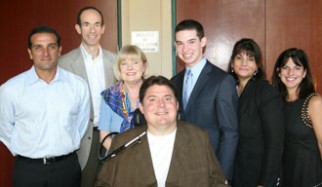 Behind Miami Project President Marc Buoniconti, center, are from left, Claude Grubair, athletic director; Adam Goldstein, parent; Ellen Moceri, head of Ransom; David Goldstein, student; Gillian Hotz, Ph.D., and Cheryl Goldstein, parent.
The Miller School and the KiDZ Neuroscience Center at The Miami Project to Cure Paralysis held a special assembly at Ransom Everglades School in Coconut Grove this month to educate students about spinal cord injury and concussion in sports.
At the September 13 assembly, Marc Buoniconti, president of The Miami Project to Cure Paralysis, discussed the college football injury that left him paralyzed 25 years ago and the advances in spinal cord injury research, including the start of human trials, that hold promise of a cure.
And Gillian Hotz, Ph.D., director of the Concussion Program at UHealth Sports Medicine, reviewed the signs and symptoms of concussion and described how Ransom students will be tested with ImPACT this fall.