As the semester comes to a close, we want to remind you to maintain your intellectual well-being as you prepare for upcoming final exams.

---
What is Intellectual Well-Being
Expanding your personal collection of knowledge and applying it in your life.



---
Maintain Your Intellectual Well-Being
Tips to make it through finals
Plan a study schedule
Be sure to schedule breaks. Use that time to hydrate, call a loved one, and get physical.   
Set realistic goals for yourself each day.
Use your time efficiently. Remove all distractions and set up an effective study space.
Engage the other dimensions of well-being
Eat foods that will fuel your brain, such as nuts, avocados, berries, and dark chocolate.
Get a good night's sleep leading up to the exams. Better sleep leads to better academic performance, recall, and mood.
Engage in positive self-talk. Be kind to yourself and celebrate your accomplishments.

Remember that students who use unprescribed Adderall have no significant gain in academic performance.
---
Do: Meditate
Meditation can help to calm your thoughts, relax, relieve stress, and be more productive. It's also a great way to take a break or help you get that sleep you need.

Check out this guided mediation made specifically for students who need help focusing or preparing for an exam.

 
---
Listen: A Student-Run Podcast
The final episode of the semester of the Student Well-Being Podcast is comprised of 3 interviews with graduating seniors: Ashley Howell, Hayden Seager, and Carter Ingersoll. They all give different perspectives of their college experience and helpful advice along with it.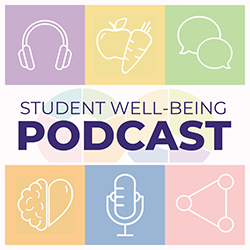 ---
Engage With Your Well-Being
BIPOC Radical Healing Circle with Free Yoga and a Qi Gong Demonstration
Tuesday, April 19 | 5 - 6 p.m. | Virtual | More Info

Free HIV & STD Testing
Wednesday, April 20 | 9:30 a.m. - 3 p.m. | Wellness Center | More Info
Stimulant Safety
Monday, April 25 | 9:30 - 11:30 a.m. | Lakeside Stage | More Info

Check your email every Wednesday for Ibis News to see upcoming events for the week, and view the University events calendar for a complete listing of on-campus events and programs.