So far this semester, we've explored how physical well-being is important to our overall health.
Now, we're going to focus on how the decisions you make around alcohol and other drugs can impact your intellectual well-being.
---
Why does this matter?
Increased drug and alcohol use can cause memory and attention problems, which often lead to worsened academic performance.

---
Tips to Improve Your Well-Being
Peer educators from The Sandler Center for Alcohol and Other Drug Education shared some tips on how they prioritize their brain's health with good decision-making.
Stay focused on what matters most
"Being aware of my limits helps me prioritize my academics. Paying attention during lectures, studying for exams, and writing essays requires my full focus. If I am not making healthy choices when it comes to alcohol, my brain can't be 100% in it." - Sydney Reavely, sophomore 
Manage your time
"Not going out on nights leading up to tests and projects helps me be successful in my academic performance. Making the choice not to go out means I can get enough sleep and be prepared for my tests. I feel more comfortable and am able to focus better." - Kareena Patel, sophomore

Learn your limits
"As a senior, it can be tempting to hit The Rat after class every day. By limiting pitchers to Fridays, knowing my limits, and eating food and drinking water beforehand, I feel okay later in the night if I need to study to stay on track academically." - Julie Erhardt, senior
'Canes Care for 'Canes
"My friends and I always watch out for each other and make sure we are pacing ourselves, drinking water, and not pushing past our limits. This lets us have fun and also be able to study or work the next day without feeling bad." - Rohan Dureja, senior
Use campus resources
In addition to the tips above, don't forget about the many on-campus resources that can help you make responsible choices about alcohol, drugs, or other parts of your life.
---
Do: Assess Your Habits
Try this quick screening to assess your relationship with alcohol and/or other drugs. Your results are not a diagnosis, but they may allow you to reflect on possible next steps. Your results remain fully anonymous.
---
Listen: A Student-Run Podcast
The next episode of the Student Well-Being Podcast features an interview with Claire Zovko, a University of Miami alumna and professor in the School of Education and Human Development.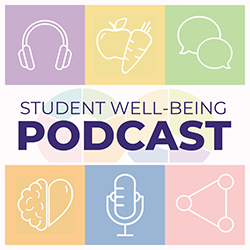 ---
Engage With Your Well-Being
Free HIV and STD Testing
Wednesday, March 9 | 9:30 a.m. to 3 p.m. | Herbert Wellness Center | Make an Appointment

ULTRA Safety
Tuesday, March 22 | noon to 2 p.m. | The Rock | More Info
Bust the Burnout
Friday, March 25 | 1-3 p.m. | Westbrook Walkway
MEGA
Friday, March 25 | 8-11 p.m. | Lakeside Village
Check your email every Wednesday for Ibis News to see upcoming events for the week, and view the University events calendar for a complete listing of on-campus events and programs.