Last month, we highlighted how physical activity can contribute to your well-being. However, there is more to your physical health than staying active. Read the tips below to learn about other ways you can keep your body healthy.
---
What Is Physical Well-Being?
Making active choices that benefit the health of your body


---
Maintain Your Physical Well-Being
Use safe sex supplies
Consistent and correct use of latex or polyurethane condoms can significantly reduce the risk of STD transmission. 

Get tested
If you are sexually active, it is important to get tested regularly because a person can have a sexually transmitted disease (STD) without showing any signs or symptoms.

Consider PrEP
Pre-exposure prophylaxis (PrEP) is a daily pill that can reduce the risk of HIV infection for people who do not have HIV. 
Engage with campus resources
---
Watch: About PrEP
Click the image below to watch a video about PrEP featuring one of Student Health Service's providers.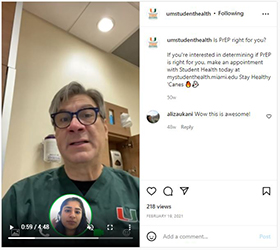 ---
Do: Get Your Annual Physical
Routine physicals are important—even for young, healthy adults—because they help provide information and resources to build healthy habits early on in life. To schedule a physical with Student Health Service:
Visit MyUHealthchart.com and sign in with your University credentials.
Select "Visits" then "Schedule a new appointment."
Select "All Student Health Visits" and then select "Annual Physical" as the reason for your visit.
Fill out the appointment information.
Contact Student Health Service with any questions at studenthealth@miami.edu or 305-284-9100. 
---
Listen: A Student-Run Podcast
The next episode of the Student Well-Being Podcast is now available and features an interview with Emily Oncon, a University of Miami alumna and graduate student studying nutrition.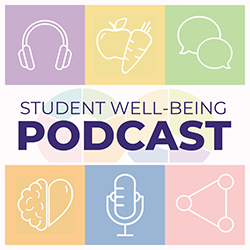 ---
Engage With Your Physical Well-Being
Fresh Check Day
Wednesday, Feb. 16 | 11 a.m. to 2 p.m. | Foote Green

Free HIV and STD Testing
Monday, Feb. 21 | 10 a.m. to 3 p.m. | Student Health Service | Make an Appointment

Cycle Sesh benefitting DCC
Thursday, Feb. 24 | 6-10 p.m. | SCC Lakeside Patio | Register
COVID-19 Vaccine Clinic
Thursdays | Student Health Service | Make an Appointment
Safe Spring Break
Monday, March 7 | 11 a.m. to 2 p.m. | Foote Green
Check your email every Wednesday for Ibis News to see upcoming events for the week, and view the University events calendar for a complete listing of on-campus events and programs.