HOUSING & RESIDENTIAL LIFE

Housing for the Spring 2023 semester closes at noon on Saturday, May 13. Housing and Residential Life has compiled some tips to help your student have a successful move-out experience.

Be sure to review the Spring 2023 Move-Out Information for important details on move-out dates, guidelines/procedures on how your student can properly move out to avoid charges, information on how they can donate unwanted items, etc. 
Have conversations with your student now about how to prepare in advance of closing so that their stress will be minimized, and they can focus on their academic needs as it pertains to their final exams or projects. Students will receive email notices in addition to information from the student leaders in their Residential College/Community. 
Looking for summer storage options? Contact The UPS Store located in Lakeside Village today!
Summer housing during summer session C will be offered. More details on how a student can sign up can be also found on Housing and Residential Life's website as well as rate information. Students must apply by May 1 to avoid being assessed a $100 late fee. 

For the latest updates, encourage your student to monitor their University email address to visit miami.edu/housing. If there are any questions or corners, for the best ways to reach out, please visit the Contact Us page on our website.
CAMNER CENTER FOR ACADEMIC RESOURCES
Is your student experiencing heightened stress as finals and the end of the semester approach? Do you wish there was something you could do to help, even if you might be far away? There is!

Start by reminding your student how much they have already accomplished and how proud you are of everything they have achieved. Send them a care package with snacks and words of encouragement to help get to the finish line. Remind them that cramming is ineffective, sleep is important, and staying active can help with their physical and mental well-being during this time. 

You can also suggest to your student that they come get help from the Camner Center for Academic Resources. Students are able to meet with a Learning Specialist who can help students with time management, study techniques, and teach them tips on how to best prepare for finals. We also have trained Peer Tutors to help with content material. Both types of appointments are absolutely free! Schedule early as appointments book quickly! 

Best of luck to all your students and remember we are here to help them!
Did you know that students who work on-campus during their undergraduate years have been proved to have increased financial security, improved learning, and career readiness and typically also have higher average GPAs? That's what we see here at UM too! There are over 5,500 on-campus jobs that are most often supported by our undergraduate 'Canes. This engagement creates a community of fellow 'Canes, and help students acquire skills and apply practical knowledge that complements their academic life.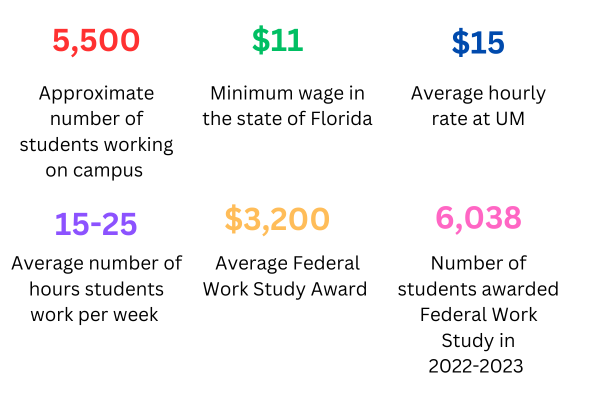 So, what can you do as a parent? Encourage your student to consider student employment. All students are eligible for Student Assistant positions and students who have received a Federal Work Study award as part of their financial assistance are also eligible for jobs with that designation. 

Your student can learn more about becoming a student employee, and find jobs very easily. If you have any questions, contact us at 305-284-6641 or ose@miami.edu. 
THE SANDLER CENTER FOR ALCOHOL AND OTHER DRUG EDUCATION
Your student's health and well-being are strongly connected to success and academic performance. Parents and families can have significant impact on a student's choices related to their well-being. Here are some tips from The Sandler Center for Alcohol and Other Drug Education to help encourage your student to engage in healthy behaviors:   
Check-in with your student regularly and ask questions such as "How are you feeling today, both physically and mentally?" or "When was the last time you took some time for self-care?"  
Encourage your student to seek help when needed. Become familiar with the range of well-being resources available to students both on off campus, including the Counseling Center and the Dean of Students Office. Remind your student that these resources are not just for crisis situations but can also be utilized to maintain and grow well-being.
Find a balance between offering assistance and empowering your student to make their own decisions. Building resiliency is key to well-being. 
For more family well-being resources, check out this page!
SENIOR VICE PRESIDENT FOR STUDENT AFFAIRS
Welcome to April! Many of our students are beginning to celebrate the accomplishments of this academic year. Many of our student organizations will be hosting banquets and end of year celebrations. For our families of seniors, we too will come together in a few short weeks to celebrate with Commencement. Even with many pending celebrations, students still have much to get through with final exams, projects, or papers steadily approaching. It is important that they remain focused through the end. There are a variety of resources on campus that can help your student to prepare for exams, especially the Learning Commons in Richter Library.

This month can also be helpful to finalize summer plans, be that enrolling in a summer course or getting an internship. It is helpful at the end of each semester for our students to reflect on what they have enjoyed, excelled at, or challenged by. Through this knowledge, your student can better set themselves up for future success. Currently, returning students are or will be enrolling in their Fall 2023 courses. Reflection can helpful to select classes that work well for what they can manage or to identify if a deeper conservation with their academic advisor would be helpful when exploring their future. 

Thank you always for your continued partnership. I am grateful for all you do to support your student and their future success. If you or your student needs anything, please do not hesitate to email me at vspa@miami.edu.
RESOURCE GUIDE
FOR FAMILIES
Spring break may have passed, but the best is yet to come! Though the spring semester is nearing its end, the different organizations and departments on campus are gearing up for their biggest events. Moving forward, students will continue to have great opportunities to hang out with friends, win incredible giveaways, meet new people, and experience the campus environment to its fullest extent. As a commuter, I arrive on campus quite early and leave rather late regularly to avoid heavy traffic. With graduation approaching rapidly, I want to arrive earlier or stay later than needed because I know I will not have these opportunities after my time at the U has ended. I encourage you to talk with your students about their experiences and urge them to continue to take advantage of the exciting season of events at the University.

Genesis Leiva Cerna, B.A. Global Health Studies, Class of '23
ADMISSIONS AND ENROLLMENT

One of the easiest ways to get around the City of Miami is hopping on the Metrorail, our above-ground train system (which conveniently stops right in front of the University of Miami)! We have consulted with current 'Canes to ensure you'll know how to enjoy this 25-mile stretch of The Magic City.
ARTS AND HUMANITIES

View a list of arts-related events for this month, including a student musical production at the Jerry Herman Ring Theatre, film screenings at the Bill Cosford Cinema, and new art exhibitions opening at the Lowe Art Museum and University of Miami Gallery at Wynwood.
FACULTY AND STAFF

Using research as a tool to create wonder and enthusiasm in the classroom, Burjor Captain, associate professor of chemistry in the College of Arts and Sciences, is honored with the Outstanding Teaching Award for Undergraduate Teaching.
GRANTS AND FUNDING

Students at the Rosenstiel School of Marine, Atmospheric, and Earth Science are working side-by-side with scientists and researchers on a U.S. Navy-funded project that will help improve weather forecasting.
HEALTH AND MEDICINE

Thought leaders at the 2023 Concordia Americas Summit advocated increased inclusivity, engagement, and an improved partnership between the United States and countries in the hemisphere as pivotal for a more prosperous future for the Americas.
PEOPLE AND COMMUNITY

In awe of the men's basketball team's success, University of Miami alumni across the country are preparing for Saturday's NCAA Final Four game against UConn.
SCIENCE AND TECHNOLOGY

Len Pinchuk, best known for the invention of the Nylon 12 angioplasty balloon, presented "The Three-Legged Stool of Innovation" address at this year's annual Graduate School and Office of Postdoctoral Programs Research Symposium.