June 24, 2022
Dear Resident Student,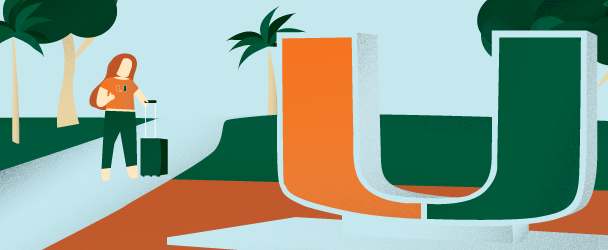 Although the summer has just begun, we are getting ready to welcome you and your classmates back to campus in August. To help you prepare for a smooth return to campus housing, we will be sending you a series of emails throughout the summer.
The latest information about move-in is always available at miami.edu/housing/move-in.
---
Viewing housing assignment
As a reminder, your on-campus housing assignment is listed in the On-Campus Housing Portal via CaneLink. To view your assignment:
Log in to

 

CaneLink and select the On-Campus Housing Portal link on the landing page.
Once inside the housing portal, select Application.
Your assignment is listed within the box titled Academic Year 2022-2023.
Select Continue to view more details about your assignment and to contact any roommate(s)/suitemate(s) from within the portal.
---
Move-in days
Returning students can begin arriving to campus on Thursday, August 18. You will not be assigned a specific day to arrive.
---
Mail and packages
Please do not send items to campus over summer. They will be returned to sender. Be sure to review important dates about when you can begin shipping items to campus on miami.edu/housing/move-in.
---
More information
We recognize that you will have many questions this summer about returning to campus. In addition to checking your University email regularly, be sure to visit miami.edu/housing/move-in for the most up-to-date information. If you have specific questions, please visit our Contact Us page.
---
Housing cancellations
If you have a reservation that you no longer need, please complete the Cancellation Request Form available in the On-Campus Housing Portal in CaneLink. This is an important step to inform Housing & Residential Life of your change in plans.