Inspired by the great work of the retiring ORA Insider newsletter, the VPRS Insider newsletter is a place to share our kudos, accomplishments, and what's next for the over 200 professionals in the the Office of the Vice Provost for Research & Scholarship. To submit items for next time, email vprs@miami.edu.
Last month, we asked you to weigh in on your experience of working remotely during the COVID-19 pandemic, and to share your thoughts about a potential return to in-person work. In this update, we share the results of that exercise and an overview of what a return to in-person work might look like for the VPRS.
| | Dr. Alberto Caban-Martinez will begin his appointment as Assistant Provost for Research Integrity on July 1. He comes with a plethora of knowledge on the subject of research integrity as he currently teaches a research ethics course for University medical students. Dr. Caban-Martinez will be taking over the role of Assistant Provost for Research Standards from our beloved Dr. Jay Sosenko, who proudly filled this role for over 20 years. |
| --- | --- |
The Office of Research Administration reports some major milestones and achievements since the beginning of the year, among them:
Reviewing financial disclosures to ensure foreign engagements are appropriately disclosed in other support.
Returning to normal turnaround times for award set-up.
Evaluating and streamlining escalation processes for contract negotiation.
Publishing the Effort on Sponsored Awards policy. The policy outlines the minimum and maximum amount of effort that can be allocated to sponsored awards. 
Developing the New Proposal Exception Policy. Proposals must be submitted to the Office of Research Administration three days prior to the application deadline (five days prior to the deadline for the Small Business Innovation Research and Small Business Technology Transfer programs).
Associate Vice President Laura Kozma mentioned many other initiatives in the works, including the single audit, the iLab integration, and the ORA Educational Curriculum. Read more in the Lunch with Laura newsletter.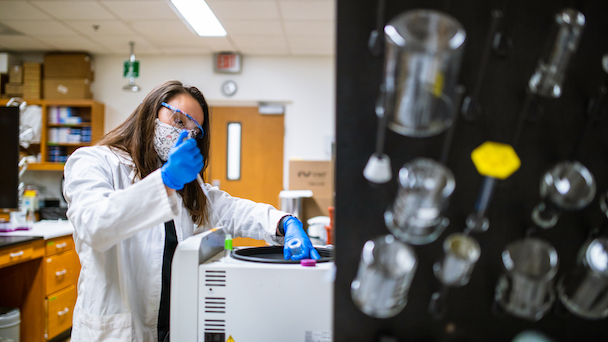 The newly organized Regulatory Affairs & Assessment team, lead by Associate Vice President Johanna Stamates, includes Disclosures & Relationship Management, Compliance Committees, Export Control Compliance, Research Compliance & Quality Assurance, the Human Subjects Research Office, and the newly reimagined Clinical Research Management and Support Office (CRMSO). The consolidated team quickly began to conceptualize ways to partner together in an effort to comprehensively address questions from the research community we serve. The first of these initiatives resulted in a combined Town Hall that was very well received. It allowed a platform to connect with key stakeholders from various critical units that support research. Some additional updates from the offices below:
Disclosures & Relationship Management: Through an intensive VPRS team effort, collaborating with Research Information Technology, 96.94% of UM faculty completed the UDisclose System certification process, including answering questions regarding Foreign Engagements, before the Provost's May 31st deadline.
Compliance Committees: Although a thorough review of proposed animal studies is an essential function of the Institutional Animal Care and Use Committee (IACUC), we are always searching for make this process as user-friendly as possible to minimize the associated regulatory burden. We adopted a new approach in June 2020 for the review of amendments to protocols so that most of these modifications were not required to come to a fully convened IACUC meeting. By doing this, we shortened turnaround time from submission to approval from an average of 22 days to nine days.
Export Control: In May 2021 Laila Boulos joined the Export Control Office (ECO) as an Administrative Assistant. Laila over the years has assisted the ECO in the processing of restricted party screenings and furnishing guidance for University visa submissions, including the I-129s and the DS-2019s. She will be a great asset to the ECO and will have expanded responsibilities working on future projects.
Research Compliance & Quality Assurance: During the past year, RCQA successfully implemented electronic Quality Reviews which allowed us to conduct Quality Reviews remotely during the pandemic. Since this was so well received by the research community, as it allows for greater flexibility in scheduling, we will continue to offer remote Quality Reviews in addition to in-person reviews.
Clinical Research Management and Support Office (CRMSO): The newly created CRMSO serves as a central resource for principal investigators, study staff, and departments involved in clinical research, and for sponsor-investigators seeking to conduct clinical trials at the University of Miami. This office will provide regulatory support, project management, data management and management of research sites as it relates to sponsor obligations. The office will continue with their responsibilities related to Clinical Trial Disclosure.

Katrina Guanche for not only constantly receiving excellent feedback from the customer surveys, but also additional emails from faculty members acknowledging her outstanding support.

Liz Meza and Mike Perez for your hard work and collaborative spirit! Together with the Environmental Health and Safety department, we doubled the animal users' participation in the Occupational Health and Safety medical surveillance program.

Kathy Abraham-Gonzalez, Manager, Research Administration, for her incredible work on the single audit!

Stewart MacIntyre and Tatyana Vikhlyantseva who were recognized by Richard Preston, Chief of the Division of Clinical Pharmacology, for their willingness and adaptability in getting trials and projects off the ground, with turnaround times that rivaled industry.
The Human Subjects Research Office continues to be amazed by the caliber of individuals that support the very important work we are tasked with. Despite challenging circumstances and dynamic rhythms, when reflecting on each member of our wonderful team dedication, resilience and service are ongoing themes.

Angel Gallusi, whose early morning and late night responses make all the difference in the world to time sensitive submissions.

Karla Fongyee, Mabel Algeciras, Stephanie Venero and Yaslaime Fraga, whose extra TLC on numerous service encounters made the various exchanges with faculty members that much more positive and successful.

Di Ding, whose attention to detail and proactive approach helps to quickly address issues early on in the review process yielding a better outcome for all involved.
Manuel Marine joins ORA as a Contracts & Grants Specialist • Armando Luzula joins the HSRO as an IRB Specialist • Joseph Daddio joins the DVR as an Animal Care Technician • Elizabeth Mendez Salom joins the ORA Pre-Award team as a Contracts & Grants Officer • Shinelle Alexander joins the ORA RSMAS team as a Sponsored Programs Specialist • Kimberly Croft joins ORA as Executive Director, Research Accounting & Cost Analysis
Cristina Serafini and husband Marcos welcomed Theo Andre Fernandez on March 1 • Kristine Martinez and husband Adam welcomed Levi Kaleb Llanes on March 21 • Kate Silvera and husband Diego welcomed Katie-Joy Garcia • Bianca Krysztof and husband Peter welcomed Lou John Krysztof on June 3
| | Manager, Research Training |
| --- | --- |
Richard Boodoo, Sr. Animal Care Technician 
Jacqueline Asenjo, Sr. Grant Administrator 
Yanira Blanco Oliveras, Manager, Sponsored Programs
Teresita Von Plinsky, Sr. Grant Assistant
Julia Zaias, Director, Veterinary Resources 
Jean Fils-Aime, Animal Care Technician 
MarieTherese Joseph, Animal Care Technician 
Mabel Enriquez, Sr. IRB Regulatory Analyst 
Denise Dimitriu, IRB Specialist
Daniel Auguste, Help Desk Technician 
Patricia Elaine Shearer, Contract and Grants Analyst 
Dudley K. Brown, Asst. Animal Care Technician
Jeanette Mestepey, Sr. Manager, Finance
William Roger Caiaffa, Sr. Grant Accountant
Helen Miletic, Director, GxP Compliance 
Elsa Bayley Hay, Executive Assistant
Lionel Jesus Vera, Director, Cost Analysis and Reconciliation 
Jose Payan, Sr. Animal Care Technician 
Alice M. Columbia, Animal Care Technician 
Giselle Maria Wicks, Programmer 3 
Laila Nicoli Boulos, Sr. Administrative Assistant
Patricia L. Hitchcock-Tate, Sr. Administrative Assistant
Adelei Jacqui Johnson, Grant Administrator 
Pamela Capman, Research Training Specialist 
Kristina Ann Roth, Manager, Accounting
Natalia Cuevas, Sr. Grant Administrator
Anthony S. Fernandez, IRB Regulatory Analyst
Edwin Bemmel, Executive Director, Research Administration 
Carlos Jofra, Animal Care Technician
Karla Fongyee, IRB Regulatory Analyst 
Ishwar Ramsingh, Data Broker Director