September's Hot Topic
The Scope of Work and Why it Matters
| | Whenever a proposal includes a subawardee, there are several internal documents that are required, and one is the scope of work that the subawardee will perform. At times, this scope of work is an afterthought, either a couple of sentences or the entire proposal which includes much more than just the subawardee's scope. There are a number of reasons why it is important to have a well written scope of work. |
| --- | --- |
The scope of work outlines what the subawardee has agreed to as a part of the binding agreement to perform. If a subawardee is not performing, this is the only legal document we have that details what they are required to do. We also use the scope of work when disputing expenses. A well written scope of work that our UM Principal Investigator (PI) has reviewed and agrees covers the work to be performed, protects UM and the project.

Best Practices:
Review the scope to make sure it seems reasonable and clearly details the subawardee's responsibilities.
Make sure the UM PI reviews and approves of the scope of work.
Similar to above, this is what we are agreeing to complete! The scope of work will protect UM and our faculty by clearly outlining only the tasks UM was required to complete.

Best Practices
Make sure deliverables are clearly defined
Do not include any work that UM will not perform/be responsible for
Scopes of work for research projects funded by industry/for profits companies are just as important (if not more so) than the discussion above. These sponsors will often point directly to the scope of work when payment disputes occur. In addition to the best practice of making sure the deliverables are clearly defined, the scope of work should not address how the deliverable will be completed.
If you anticipate a change in the scope of work, contact ORA immediately! We will work with you and the other party to modify the agreement to incorporate the updated scope of work. At the end of the day, what matters is what is in the legally binding document!
Please join me on Thursday, September 16th at 12:00pm to discuss this topic further, I would love to hear from you!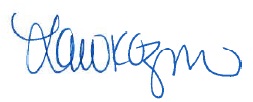 Lunch with Laura is a monthly newsletter and discussion session with me (Laura Kozma, Associate Vice President for Research Administration) on a specific topic. There will be new focus each month which will include hot topics in research administration, new and significant policies, and changes in the Office of Research Administration (ORA).
Newsletter: The newsletter will be distributed to the University of Miami (UM) communicated and will also be available online. Each newsletter will briefly discuss key points about the monthly focus including available resources.
Lunch with Laura: The discussion session will be held shortly after the newsletter is sent out. All are welcome to come and discuss the monthly focus and ask questions. I look forward to having an opportunity to discuss your concerns and questions in depth. My goal is to make this an opportunity for you and one for me as well so I can better understand your struggles and challenges.