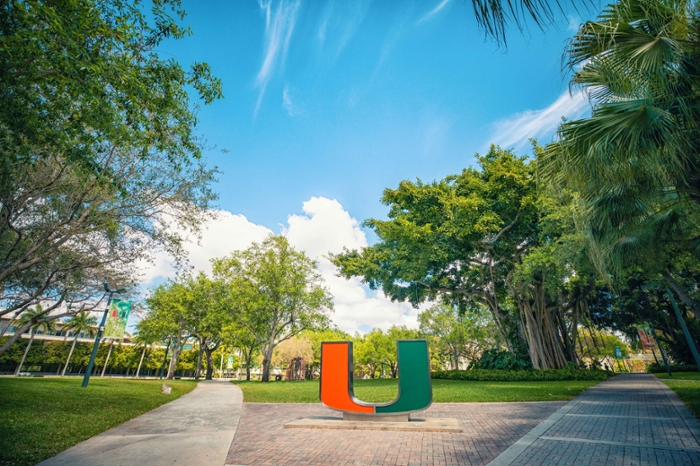 In the Office of the Vice Provost for Research & Scholarship, over 250 professionals guide faculty, staff, and learners through the entire Research Lifecycle, from project conception and grant submission to sharing results with the world and creating commercial opportunities.
The Office of the Vice Provost for Research & Scholarship gathers upcoming funding opportunities into a once-weekly email distributed each Wednesday. To promote a funding opportuntity in the newsletter, email Melissa Peerless for foundation opportunities or Eva Olivares for other categories of funding opportunities.
---
Notice of Proposal Eligibility
Note that when a proposal is selected for funding, the sponsor will provide their terms and conditions to the University to review, negotiate and accept. Sponsors do not negotiate terms before the award is issued and the terms are often not publicly available. The Office of Research Administration works hard to ensure the terms are agreeable to the sponsor and acceptable to UM.
Follow Us Today!
The Office of the Vice Provost + Scholarship (OVPRS) is now on social media! Connect with OVPRS on Twitter, Instagram and Facebook for the latest updates.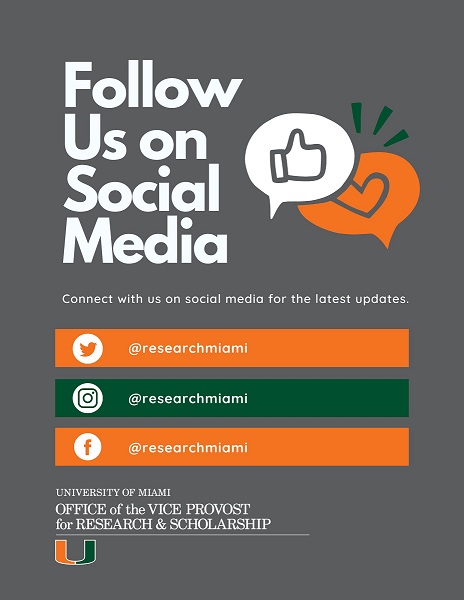 May 3, 2023 by 5PM
Purpose: The objective of the SIA is to support projects that may be too innovative and speculative for traditional funding sources but still have a high likelihood of producing important findings. It is expected that investigations supported by these grants will yield high impact findings and result in major grant applications and significant publications in high impact journals.

Eligibility: The nominated candidate must be a full-time associate professor or full professor at a US academic institution that was invited directly by BRF via email, working in the area of studies of brain function in health and disease. Current major NIH or other peer-reviewed funding is preferred but evidence of such funding in the past three years is essential. Studies should be related to either normal human brain development or specifically identified disease states. This includes molecular and clinical neuroscience as well as studies of neural, sensory, motor, cognitive, behavioral and emotional functioning in health and disease. The grant proposal must detail a new research project that is not funded by other sources. This grant is not to be used as bridge funding.

Investigators at institutions that are affiliated with a medical school or university are eligible to apply only through the institution where they hold a full-time faculty position.

Scientists that have previously received a BRF Scientific Innovations Award may not receive the award for a second time until five years has elapsed since the beginning date of the prior award. Grant requirements from all previous awards must be met. Only one PI may apply per application. (Applicant may include the name of a Co-PI within or from another institution, but no additional supporting materials for the Co-PI are required, including biosketch, current grants, abstracts, etc.)

Funding and Award Period: Each total award is limited to $150,000 (direct costs) for a two year grant period. Exact dates will be provided by the BRF upon application approval. The first grant payment of $75,000 will be made upon completion of the SIA Acceptance Form. The final payment of $75,000 will be made contingent upon receipt of a Preliminary Progress and Financial Report. Funds must be utilized within the grant period.

*Please see the SIA guidelines for additional information.

Proposals must be submitted via InfoReady: https://miami.infoready4.com/#competitionDetail/1901501
May 9, 2023 by 5PM
The Health Resources and Services Administration (HRSA) is accepting applications for the fiscal year (FY) 2023 Health Careers Opportunity Program (HCOP): National HCOP Academies. The purpose of the National HCOP Academies is to assist individuals from economically and educationally disadvantaged backgrounds to enter and graduate from a health professions program. The National HCOP Academies funds programs that work to improve recruitment, matriculation, retention, and graduation rates by implementing tailored enrichment programs that address the academic and social needs of trainees from disadvantaged backgrounds. HCOP Academies also provide opportunities for community-based experiential health professions training, emphasizing experiences in underserved communities. A funding preference is available to applicants who partner with several public or private health or educational entities to establish, enhance, and expand educational programs that produce a competitive applicant pool of individuals from disadvantaged backgrounds.

Eligibility: Eligible applicants are accredited schools of medicine, osteopathic medicine, public health, dentistry, veterinary medicine, optometry, pharmacy, allied health, chiropractic, podiatric medicine, public and nonprofit private schools that offer graduate programs in behavioral and mental health, programs for the training of physician assistants, and other public or private nonprofit health or educational entities including community colleges, technical colleges, and tribal colleges.

*For additional eligibility requirements, please see the RFA.

Estimated Annual Award Amount: Up to $650,000 per award subject to the availability of appropriated funds

Period of Performance: September 1, 2023, through August 31, 2028 (5 years)

*Please note, the Office of Diversity, Inclusion, and Community Engagement at MSOM has taken the lead on this application.

Proposals must be submitted via InfoReady: https://miami.infoready4.com/#competitionDetail/1903393
May 18, 2023 by 5PM
Purpose: The NSF Research Traineeship (NRT) program seeks proposals that explore ways for graduate students in research-based master's and doctoral degree programs to develop the skills, knowledge, and competencies needed to pursue a range of STEM careers. The program is dedicated to effective training of STEM graduate students in high priority interdisciplinary or convergent research areas, through a comprehensive traineeship model that is innovative, evidence-based, and aligned with changing workforce and research needs. 

Proposals may be submitted under two tracks (i.e., Track 1 and Track 2). Track 1 proposals may request a total budget (up to five years in duration) up to $3 million for projects with a focus on STEM graduate students in research-based PhD and/or master's degree programs. Track 2 proposals may request a total budget (up to five years in duration) up to $2 million; NSF requires that Track 2 proposals focus on programs from institutions not classified as Doctoral Universities: Very High Research Activity (R1). Requirements for Track 1 and Track 2 are identical.

Please note restrictions on institutional eligibility. The number of NRT proposal submissions allowed per institution remains limited to two (2) submissions total. The number of NRT proposal submissions per PI or co-PI remains limited to one (1) submission total.

Who May Serve as PI: The PI must be on the faculty of the submitting institution.

Budget and Project Period: Estimated program budget, number of awards and average award size/duration are subject to the availability of funds.

NRT Track 1 Awards (14-16 awards each year) are expected to be up to five (5) years in duration with a total budget up to $3,000,000.

NRT Track 2 Awards (4-6 awards each year) are expected to be up to five (5) years in duration with a total budget up to $2,000,000.

Please refer to the RFA for additional information. 

Proposals must be submitted via InfoReady: https://miami.infoready4.com/#competitionDetail/1903106
May 25, 2023 by 5PM
Purpose: The National Endowment for the Humanities' Summer Stipends program aims to stimulate new research in the humanities and its publication. The program works to accomplish this goal by:
Providing small awards to individuals pursuing advanced research that is of value to humanities scholars, general audiences, or both
Supporting projects at any stage of development, but especially early-stage research and late-stage writing in which small awards are most effective
Funding a wide range of individuals, including independent scholars, community college faculty, and non-teaching staff at universities
Summer Stipends support continuous full-time work on a humanities project for a period of two consecutive months. NEH funds may support recipients' compensation, travel, and other costs related to the proposed scholarly research.

Eligibility: Individuals who have completed their formal education and are U.S. citizens or foreign nationals who have been living in the United States or its jurisdictions for at least the three years immediately preceding the application deadline.

Applicants holding tenured or tenure-track positions at institutions of higher education must be nominated by their institutions.

Applicants may submit only one application to the Summer Stipends program per year.

*Please see NOFO for additional Eligibility Information.

Budget and Project Period: The Summer Stipends program provides $6,000 to support continuous full-time work on a humanities project for a period of performance of two consecutive months. Projects may begin as early as May 1, 2024 and as late as September 1, 2025 (for applications submitted for the 2023 deadline).

Proposals must be submitted via InfoReady: https://miami.infoready4.com/#competitionDetail/1903707
Deadline: Rolling
Research Sprints offer University of Miami U-LINK Teams the opportunity to partner with a team of library experts on a component of their broader U-LINK project. Each Research Sprint will take place over the course of two days to address the U-LINK Team's project-based obstacle and deliver a tangible plan or outcome. Two U-LINK Teams will be offered Research Sprints in the 2022-23 Academic Year. An application submission is required.

What Exactly Are Research Sprints?
Research Sprints dedicate time for team-based problem solving and/or brainstorming. University of Miami Libraries' Sprints aim to foster engaging and equitable collaborations that advance interdisciplinary research for the public good. Each member of the Sprint Team brings unique ideas, creativity, and expertise that are essential to building projects and connections during this period and beyond. We believe that the expertise of librarians and other specialists can enrich the goals and outcomes of interdisciplinary research.

How To Apply
To complete the application, please respond to the following prompts through the application questionnaire (also linked at the top of this page):https://sp.library.miami.edu/subjects/guide.php?subject=sprints

Want to know how Research Sprints might be able to help your project? Have questions before applying? Pre-application consultations are available. Contact us at researchsprints@miami.edu.
LOI Due: May 26, 2023 by 11:59PM; Full Applications Due (invited applicants only): July 24, 2023 by 11:59PM
The Miami CTSI Pilot Program awards innovative, interdisciplinary, clinical translational science proposals that clearly align with the CTSI goals of improving the health of our community, addressing health disparities, and promoting health equity. These projects are expected to generate publications and data for external funding.

As many as four meritorious projects of up to $40,000 each (for direct costs only), will be funded for fiscal year 2024. Funding is prioritized for projects that directly relate to health disparities, or address challenges in health areas that disproportionately affect minority health and/or underserved populations.

Learn more and respond to the latest RFA.

Virtual Info Session – May 15 @ 5 PM – Register Here
LOI Due: May 24, 2023; Full Applications Due (by invitation only): July 12, 2023
The Mentored Research Career Development Program Award in Clinical and Translational Science (K12) prepares and provides protected time to scholars for an intensive mentored research career development experience that leads to full research independence and leadership positions in clinical and translational science.

The Miami Clinical Translational Science Institute (CTSI) is sponsoring up to four (4) Mentored Translational Science Scholars Program Awards (K12) for the fiscal years FY2024-2025.

Learn more and respond to the latest RFA

Virtual Info Session – May 8 @ 5 PM – Register Here
June 30, 2023 by 5PM (via RedCap)
PURPOSE: The Health Foundation of South Florida Community-Academic Collaborative (HFSF-CAC) will serve as a locus for robust, community-based, and data-driven research aimed at identifying and addressing health disparities in South Florida. The mission of the HFSF-CAC is to reduce health disparities in South Florida by identifying root causes of inequity and uniting the expertise of University of Miami (UM) researchers, physicians, and leaders with the in-depth knowledge and lived experience of key community stakeholders. The HFSF-CAC supports Project 33136—Partnerships for Health Equity; this initiative will create a cohort of collaborative community-academic teams charged with developing and implementing data-driven, community-engaged projects to address health disparities and promote health equity. Collaborative teams will present their projects at an annual symposium. Anticipated project focus areas might include:
increasing access to healthcare in underserved communities by identifying and breaking down barriers, building on the lived experience of community partners;
addressing social determinants of health such as affordable housing, food security and nutrition, and high-quality early childhood care to increase family wellbeing;
studying and developing solutions to mitigate the impact of climate change on health;
and tackling persistent racism and discrimination that lead to inequitable health outcomes.
Projects proposed must address health equity issues identified in the symposium or listed focus area and use evidence-based approaches. Each team will include a UM faculty member(s), working in partnership with a local community organization, to develop and implement a data-driven project. Teams should engage with key stakeholders/affiliated organizations to inform and execute their projects. Further, teams should draw from local/state data and other relevant information which speak to health disparities and barrers to health equity in their target geography and population. Teams are encouraged to engage with HFSF-CAC leadership to discuss their proposals, health equity issue of interest, and available data and other information to inform their projects.

AWARD DETAILS AND CRITERIA: Each Team will receive $75,000 to support its project; along with the support of a graduate student to collect information and provide research support services ($17,500 per student, representing 50% of the students' annual stipends). Along with seed funding, each Team will receive:
Mentoring and technical support from UM subject matter experts, faculty affiliates and community members as projects are developed/executed
Access to the curated resources compiled through the Health Equity Toolki
Opportunities to leverage UM collaborating health systems (UHealth, Jackson) and
research resources to integrate projects into existing healthcare delivery programs,
leading to potential future widespread implementation and sustainability
Use of the SCAN360 interactive website showing factors that drive cancer burden, and support from SCAN360 data science team to develop data-driven approaches/projects
Support from UM centers on manuscript and grant development
At the project conclusion, each community partner will receive $20,000 to implement the work developed in collaboration with the team. Each team will also receive $5,000 to support publication costs and other costs related to dissemination.

FUNDING PERIOD: October 23, 2023 – October 31, 2024

Application details and submission requirements are found on REDCap.

Application Deadline: June 30, 2023, 5:00 PM
Foundation
& Corporate Grants
Please contact the Office of Corporate and Foundation Relations if you would like to pursue any of the following corporate or foundation funding opportunities. The team provides assistance with writing, editing, institutional information, and application submission.
For more opportunities, please visit the Corporate and Foundation Grant Opportunity database. This new resource presents over 1,000 grant opportunities and is searchable by keyword, sponsor, career level, grant amount, deadline, and more.
May 3, 2023
The W.T. Grant Foundation supports high-quality field-initiated studies on improving the use of research evidence in ways that benefit youth ages 5-25 in the United States.

The Foundation seeks studies that identify, build, and test strategies to enhance the use of research evidence in ways that benefit youth. Particularly: research on improving the use of research evidence by state and local decision makers, mid-level managers, and intermediaries. Projects may focus on the strategies, relationships, and other supports needed for policy and practice organizations to use research more routinely and constructively; structures and incentives within the research community to encourage deep engagement with decision makers; activities that help findings inform policy ideas, shape practice responses, and improve systems; or other projects.
Grant Amount: $100,000 through $1,000,000 over 2-4 years (15% indirect costs)
Next LOI Deadline: May 3, 2023
If you are interested in submitting a Letter of Inquiry for the W. T. Grant Foundation Research Grants on Improving the Use of Research Evidence, please contact the Office of Foundation Relations at foundationrelations@miami.edu.
May 3, 2023
The Russell Sage Foundation is devoted to innovative research in the social sciences; specifically, the Foundation is dedicated to strengthening the methods, data, and theoretical core of the social sciences in order to better understand societal problems and develop informed responses.

 For the May 2023 deadline the Foundation will accept LOIs in all program areas:

LOIs relevant to any of these topics that address the effects of social movements (such as drives for unionization and mass social protests), and the effects of racial/ethnic/gender bias and discrimination on a range of outcomes related to social and living conditions in the United States, are welcomed.
Grant Amount: Up to $200,000 over 2 years (15% indirect costs)
LOI Deadline: May 3, 2023
If you are interested in submitting a Letter of Inquiry for the Russell Sage Foundation Research Grants, please contact the Office of Foundation Relations at foundationrelations@miami.edu.
May 3, 2023
The W.T. Grant Foundation supports research to build, test, or increase understanding of programs, policies, or practices to reduce inequality in the academic, social, behavioral, or economic outcomes of young people ages 5-25 in the United States.

The Foundation prioritizes studies that aim to reduce inequalities that exist along dimensions of race, ethnicity, economic standing, language minority status, or immigrant origins.

The Foundation welcomes descriptive studies that clarify mechanisms for reducing inequality or elucidate how or why a specific program, policy, or practice operates to reduce inequality; and also welcomes intervention studies that examine attempts to reduce inequality. Finally, studies that improve the measurement of inequality in ways that can enhance the work of researchers, practitioners, or policymakers are welcome.
Grant Amount: $100,000 through $600,000 over 2-3 years (15% indirect costs)
LOI Deadline: May 3, 2023
If you are interested in submitting a Letter of Inquiry for the W. T. Grant Foundation Research Grants on Reducing Inequality, please contact the Office of Foundation Relations at foundationrelations@miami.edu.
May 4, 2023
This RFA supports research that produces foundational knowledge about the neurobehavioral differences associated with ASD, focused on the development/refinement of translational tools such as biomarkers and outcome measures. Special emphasis is placed on objective, quantitative measures that may be used with clinical measures and genomic information to characterize phenotypic and neurobiological variability within and across individuals with ASD.

SFARI has a strong interest in developmentally focused studies in areas including communicative, social, and ritualistic/stereotyped behavior; and sensory and motor function; or function domains, such as attention, learning and memory, and sleep. SFARI is especially interested in real-world, scalable, and quantitative measures of behavior (e.g., wearable devices and other methods of digital phenotyping), but applications may propose laboratory-based measures. Proposals that quantify specific phenotypes and also may contribute to the development of scalable, innovative technologies for improving interventions and supports are encouraged.

This RFA includes three funding tracks: 

Explorer track: Early-stage projects in which establishing feasibility and proof-of-concept are the most relevant outcomes of the grant period.

 Expansion track: Mature projects with evidence of feasibility and preliminary validity, for which goals such as scalability, generalizability, and/or complete measure validation are the most relevant translational outcomes.

 Collaboration track: Multi-lab, cross-institutional collaborative projects, involving transdisciplinary teams tackling a critical issue in the neurobehavioral differences of autism with clear translational implications. Collaboration among different institutions is strongly encouraged.

All applicants and key collaborators must hold a PhD, MD, or equivalent degree and have a faculty position or equivalent. There are no citizenship or country requirements.
Explorer Track - $500,000 up to two years (including 20% indirect costs)
Expansion Track - $900,000 up to three years (including 20% indirect costs)
Collaboration Track - $750,000 per labup to three years (including 20% indirect costs)
Application Deadline: May 4, 2023
If you are interested in submitting an application for the Simons Foundation Autism Research Initiative (SFARI) Human Cognitive and Behavioral Science RFA, please contact the Office of Foundation Relations at foundationrelations@miami.edu.
May 3, 2023
The Gulf Research Program's Early-Career Research Fellowship supports emerging scientific leaders as they take risks on research ideas not yet tested, pursue unique collaborations, and build a network of colleagues who share their interest in improving offshore energy system safety and the well-being of coastal communities and ecosystems. Because the early years of a researcher's career are a critical time, the relatively unrestricted funds and mentoring this fellowship provides help recipients navigate this period with independence, flexibility, and a built-in support network.

The Early-Career Research Fellowship is split into four tracks that align with the Gulf Research Program's priority areas. The application cycle for each track is spread over the better part of one year.

The tracks include: 
Human Health and Community Resilience
Environmental Protection and Stewardship
Offshore Energy Safety
Education Research
Eligibility
Hold a permanent, fully independent position as an investigator, faculty member, clinician scientist, or scientific team lead in industry, academia, or a research organization. A postdoc is not considered a fully independent position.
Be an early-career scientist who has received their eligible degree within the past 10 years (on or after September 1, 2013).
Hold a doctoral degree (e.g., PhD, ScD, EngD, MD, DrPH) in the social and behavioral sciences, health sciences and medicine, engineering and physical sciences, earth and life sciences, or interdisciplinary scientific fields relevant to the charge of the Gulf Research Program.
Be affiliated with a non-federal U.S. institution that has a valid tax ID number.
Not be currently employed by the U.S. federal government.
Fellowship Benefits
An award of $76,000 is paid to each fellow's institution in the form of a two-year grant. Funds cannot be used on institutional overhead or indirect charges.

For additional information and details on how to apply, please visit: https://www.nationalacademies.org/our-work/early-career-research-fellowship/for-applicants
LOI Due: April 17, 2023; Application Due: May 15, 2023
GCDTR's Regional Technology Core is seeking pilot grant proposals that identify gaps in current technological capabilities and barriers to successful and equitable adoption of technologies that impact diabetes prevention and care. This opportunity is for investigators from the Core's partner institutions to conduct exploratory, feasibility, and formative diabetes health equity studies aimed at generating preliminary data to facilitate submission of a subsequent funding application to NIDDK or other funding sources.

All projects should fall under the umbrella of T2 – T4 translation research and address diabetes, diabetes complications, prediabetes/metabolic syndrome, or obesity prevention or treatment.
T2 Research – translation to patients: Translation and/or implementation of interventions/approaches that have clearly demonstrated efficacy into real world health care settings, communities, and populations at risk with an emphasis on reach and sustainability.
T3 Research – translation to practice: Effectiveness, cost effectiveness, and comparative effectiveness studies conducted in practice sites, ensuring the translation of results from clinical studies into clinical practice settings.
T4 Research – translation to population: Dissemination and implementation research, which identifies and resolves barriers to implementation of evidence-based guidelines into community practice.
Faculty researchers from the University of Florida, University of Miami, University of Tennessee Health Sciences Center, and the Jaeb Center for Health Research are eligible to apply as principal investigator for pilot and feasibility funding provided that they fit into one of the following categories:
Early career faculty (e.g., Assistant Professor, Clinical Lecturer, Instructor) with limited current or past research support as PD/PI. Because the intent is that the project should lead to a subsequent NIH proposal, faculty should be eligible as a principal investigator for an NIH K or NIH R-level grant application at the time of submission.
Established investigators who: a) have no experience in diabetes translation research or b) are proposing ideas that represent a clear departure from their past research and have a fully engaged junior-level Co-PI (post-doc or junior faculty).
Please refer to the RFA for additional information. 

Note: Even though the LOI date has passed, if you are interested in applying for this cycle, please contact Dr. Daniel Jimenez at dej18@miami.edu.
June 11, 2023
The Michelson Prizes: Next Generation Grants are annual awards of $150,000, which support early-career investigators who are working to significantly advance human immunology and vaccine and immunotherapy research for major global diseases.  The Prizes are awarded by the Michelson Medical Research Foundation and the Human Immunome Project (formerly the Human Vaccines Project) --  applications are being accepted from April 3 – June 11, 2023. Additional info can be found at www.humanimmunomeproject.org/michelsonprizes.
About the Prizes: We are looking for research aimed at tackling the current roadblocks that exist in human vaccine development and expanding our limited understanding of key immune processes that are fundamental to successful vaccine and immunotherapy development.
Eligibility: Researchers / scientists who are 35 and under.
Disciplines: Applicants from the full spectrum of immunology-related disciplines, including clinical research, biochemistry, molecular biology, protein engineering, computer science, artificial intelligence/machine learning, biophysics, environmental health, nanotechnology, etc., are encouraged to apply.
Deadline:  June 11, 2023
If you have any questions about this opportunity, please contact BBender@immunomeproject.org. 
August 16, 2023
For close to 40 years, Pew's biomedical grant programs have supported promising researchers throughout the country pursuing innovative scientific goals to advance human health. And since 1991, the Pew Latin American Fellows Program in the Biomedical Sciences has done the same for scientists from throughout Latin America, helping them continue their postdoctoral studies in the U.S.

That's why Pew is pleased to share their new video that explains how the fellows program has helped cultivate new generations of Latin American scientists—told from the perspectives of three current and former fellows—and calls on the next generation of biomedical researchers to join our program.

Please visit the Pew website for eligibility and application details. 
Government
Funding Opportunities
Letter of Intent Due: October 7, 2023
Program Announcement: https://grants.nih.gov/grants/guide/rfa-files/RFA-ES-23-007.html?utm_campaign=+55327346&utm_content=&utm_medium=email&utm_source=govdelivery&utm_term=

Purpose: A changing climate will adversely impact human health through multiple direct and indirect effects on individuals and their communities. The purpose of this Notice of Funding Opportunity (NOFO) is to solicit P20 planning grant applications for Climate Change and Health Research Centers (CCHRCs). This program will support the development of an innovative research environment to foster and sustain a transdisciplinary program of fundamental and applied research to explore the complex impacts of climate change on health and to develop action-oriented strategies that protect health and build resiliency at the individual, community, national and global levels. A major goal for this program is to build research teams as well as collaborations with communities and other key partners.

The program seeks innovative research and pilot/feasibility projects that utilize transdisciplinary approaches to address questions relevant to climate change impacts on health. Applications for these CCHRCs should propose planning and development activities in preparation to build institutional research capacity for future proposals addressing climate and health. NIH seeks to support a variety of these centers around the world and across a range of thematic scientific areas in support of the four core elements of the NIH's investment in climate health research: health effects research, health equity, intervention research, and training and capacity building.

Each CCHRC is expected to: (1) plan and develop sustainable research capacity by establishing centralized resources and research infrastructure; (2) develop the Center's thematic science area through transdisciplinary research activities; (3) enable research that will develop into new programs of science and research applications supporting independent investigators; (4) establish or build upon and maintain authentic partnerships to engage communities most likely to be impacted by climate change in all phases of the research process; and (5) actively participate in the NIH Research Coordinating Center to Support Climate Change and Health Community of Practice activities (https://grants.nih.gov/grants/guide/rfa-files/RFA-ES-22-003.html).

Funds Available and Anticipated Number of Awards: NIH intends to commit $30 million in FY2023 and FY2024 to fund up to 17 awards.

Award Budget: Application budgets are limited to $850,000 direct costs per year and need to reflect the actual needs of the proposed project.

Award Project Period: The maximum project period is 3 years.

Applicant organizations may submit more than one application, provided that each application is scientifically distinct.

The NIH will not accept duplicate or highly overlapping applications under review at the same time, per 2.3.7.4 Submission of Resubmission Application. This means that the NIH will not accept:
A new (A0) application that is submitted before issuance of the summary statement from the review of an overlapping new (A0) or resubmission (A1) application.
A resubmission (A1) application that is submitted before issuance of the summary statement from the review of the previous new (A0) application.
An application that has substantial overlap with another application pending appeal of initial peer review (see 2.3.9.4 Similar, Essentially Identical, or Identical Applications).
 For additional information, please see the RFA.
May 8, 2023
The Rapid Explanation, Analysis, and Sourcing Online (REASON) Program aims to develop technology that will enable intelligence analysts to substantially increase the quality of argumentation in their analytic reports through more effective use of evidence and reasoning. In the context of an analytic report, evidence is information that supports or opposes a judgment, while reasoning is the stated justification for the judgment. Furthermore, strong reasoning is reasoning that logically substantiates the judgments while weak reasoning is reasoning that either fails to substantiate the judgments or contains logical flaws.  The technology developed by the REASON Program will automatically produce comments (feedback and recommendations) on a draft report, highlighting additional relevant evidence, and identify strengths and weaknesses in the draft's reasoning. Analysts can use the comments to improve their reports.

Offerors shall address all three technical Task Areas (TAs) to meet REASON's goal of developing automated methods to produce comments on draft analytic reports that enable analysts to substantially increase the report's quality of argumentation:
Task Area 1 (TA1) – Identify Additional Evidence: Automatically find relevant supporting and contrary evidence in addition to the evidence used in a draft report.
Task Area 2 (TA2) – Identify Reasoning Strengths and Weaknesses: Automatically find strengths and weaknesses in the reasoning of a draft report.
Task Area 3 (TA3) – Produce Comments to Increase Quality of Argumentation: Based in part on the output of TA1 and TA2, automatically produce comments that enable analysts to substantially improve the argumentation in their reports.
Offerors must propose novel approaches to each of these three TAs, and if selected as a Performer, will be required to create an end-to-end technology that incorporates software components from each TA. Developed capabilities must be compatible with a provided Application Programming Interface (API) to facilitate assessment by independent test and evaluation (T&E) according to program metrics described in Section II.A.7, Program Metrics.

The Broad Agency Announcement (BAA) for the REASON Program has been posted here, https://sam.gov/opp/4568893d0a6c48408b73cc2d28caad21/view. Additional information about the REASON program, including videos of the Proposers' Day can be found at https://www.iarpa.gov/research-programs/reason.
May 25, 2023, at 5pm EDT
Applications are currently being accepted for the Fall 2023 term of three programs offered by the Department of Energy (DOE) Office of Science (SC)

The application deadline is May 25, 2023, at 5pm EDT

A total of three informational workshops will be held for SULI and CCI. One application workshop will be held for each program and will provide an overview of the program's unique requirements and application process. The third and final workshop will highlight SULI and CCI opportunities at the DOE National Labs and feature breakout rooms with lab representatives. 

CCI application workshop: March 29, 2023 from 2:00 – 3:00 pm EDT (register here) 

SULI application workshop: April 12, 2023 from 2:00 – 3:00 pm EDT (register here) 

SULI and CCI opportunities workshop: April 24, 2023 from 3:00 – 4:00 pm EDT (register here)

One informational workshop will be held for VFP. The first part of the workshop will introduce the program and application process; the second part of the workshop will feature a panel of VFP alumni.

VFP workshop: April 26, 2023 from 2:00 – 3:00 pm EDT (register here) 

Through SULI and CCI, undergraduate students discover science and technology careers at the DOE national laboratories and gain the experience needed to transition from intern to employment. Interns work directly with national laboratory scientists and engineers, assisting them on research or technology projects that support the DOE mission. SULI is open to full-time students attending 4-year institutions and community colleges or recent graduates within two years of receiving their bachelor's degree, while CCI is exclusively for community college students. Both programs are stipend-based and offered three times annually in Fall, Spring, and Summer terms.

VFP seeks to increase the research competitiveness of faculty members and their students at institutions historically underrepresented in STEM to expand the workforce vital to DOE mission areas. As such, VFP especially attracts faculty members from MSIs, including Historically Black Colleges and Universities (HBCUs). Typically, about 50% of the participants are from MSIs, one-third of which are HBCUs. Selected college and university faculty members collaborate with DOE laboratory scientific research staff on research projects of mutual interest.  Each participating faculty member may invite one or two students (one of whom may be a graduate student) to join the research team. 

SULI, CCI, and VFP are managed by WDTS in the DOE Office of Science. More information can be found at: https://science.osti.gov/wdts
Supplement Available
NIGMS is accepting diversity supplement applications to support master's degree students who are planning to apply to Ph.D. or M.D/Ph.D. programs. This opportunity is part of the Diversity Supplements Program, which facilitates the recruitment and training of promising scientists from diverse backgrounds (including invidividuals from groups underrepresented in the biomedical research workforce).  The broader goal of the program is to enhance the diversity of the biomedical research enterprise.  

As noted in the diversity supplements funding announcement (PAR-21-071), eligible candidates must be United States citizens or permanent residents. The proposed research experience must be within the scope of the PD's/PI's active NIGMS research grant, and the focus of the application should be on advancing the candidate's research career.

PIs with eligible candidates are strongly encouraged to discuss potential diversity supplement requests with the program officer of their grant before applying. We also encourage all potential applicants to contact us to discuss the proposed training and career development plan and supplement application process before preparing an application. Read more>>
Please refer to each program announcement link for pre-applications and full applications deadlines
Please refer to each program announcement link for pre-application and full application deadlines
FY23 Funding Opportunities released:

 Lung Cancer Research Program (LCRP)

Ovarian Cancer Research Program (OCRP)
Funding Notices for the Week Investigators interested in submitting a proposal to a limited submission grant, award, or fellowship program (one that restricts the number of applications that can be submitted from an institution), should immediately contact Eva Olivares in the Office of the Vice Provost for Research + Scholarship. 
Updated Requirements for NIH Notification of Removal or Disciplinary Action Involving Program Directors/Princial Investigators or other Senior/Key Personnel. Section 239 now requires that, "[t]he Director of the National Institutes of Health shall hereafter require institutions that receive funds through a grant or cooperative agreement during fiscal year 2022 and in future years to notify the Director when individuals identified as a principal investigator or as key personnel in an NIH notice of award are removed from their position or are otherwise disciplined due to concerns about harassment, bullying, retaliation, or hostile working conditions." Therefore, effective 60 days from the publication of this Notice, NIH recipient institutions are required to notify NIH when individuals identified as PD/PI or other Senior/Key personnel in an NIH notice of award are removed from their position or are otherwise disciplined by the recipient institution due to concerns about harassment, bullying, retaliation or hostile working conditions. Notification must be provided by the Authorized Organization Representative within 30 days of the removal or disciplinary action and must be submitted to NIH through a dedicated web form.
NIH NIAID Technology Transfer Fellowship Program. Fellows will be mentored by professionals that work side-by-side with with world-renowned NIAID and Centers for Disease Control and Prevention (CDC) scientists and will be part of the team that helps transfer innovations from the lab to commercial products (including vaccines, therapeutics, and diagnostics) that benefit global public health.
NIH Grants Policy Statement (Rev. Dec 2021) This update is applicable to all NIH grants and cooperative agreements with budget periods beginning on or after October 1, 2021. This update supersedes, in its entirety, the NIHGPS dated April 2021. Previous versions of the NIHGPS remain applicable as standard terms and conditions of award for all NIH grants and cooperative agreements with budget periods that began prior to October 1, 2021. This update incorporates new and modified requirements, clarifies certain policies, and implements changes in statutes, regulations, and policies that have been implemented through appropriate legal and/or policy processes since the previous version of the NIHGPS dated April 2021.
Childcare Funding Available for Pre/Post Docs Full-time appointed predoctoral and postdoctoral NIH-NRSA supported trainees are eligible to  receive $2,500 per budget period for childcare costs provided by a  licensed childcare provider. For households where both parents are eligible full-time predoctoral or postdoctoral NRSA trainees, each parent is eligible to receive $2,500.
Guidance on Salary Limitation for Grants and Cooperative Agreements This Notice provides information regarding the salary limitation for NIH grant and cooperative agreement awards and extramural research and development contract awards. Since 1990, Congress has legislatively mandated a limitation on direct salary for individuals under NIH grant and cooperative agreement awards (referred to here as a grant). The mandate appears in the annual appropriation act that provides authority for NIH to incur obligations for a given Fiscal Year (FY). At this time, NIH has not received an FY 2022 appropriation and is operating under a Continuing Resolution, the "Continuing Appropriations Act, 2022" (Public Law 117-70), that applies the terms and conditions of the Consolidated Appropriations Act, 2021.
Notice for the NIGMS Grant Writing Webinar Series for Institutions Building Research and Research Training Capacity The National Institute of General Medical Sciences (NIGMS) will host an informational webinar series for faculty and sponsored programs/research development personnel from institutions building research and research training capacity. During the webinars, suggestions will be shared for navigating the process of seeking NIH funding. Attendees will learn considerations for determining research idea and grant writing readiness, selecting opportunities to apply for, effectively writing a grant application, and seeking appropriate feedback. Registration is required to attend.