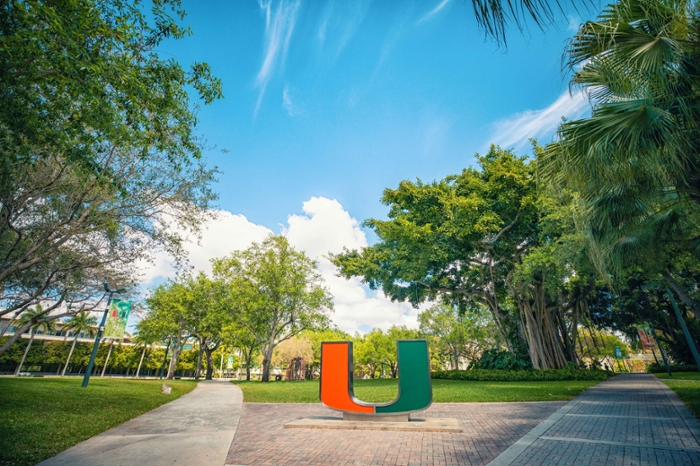 In the Office of the Vice Provost for Research & Scholarship, over 250 professionals guide faculty, staff, and learners through the entire Research Lifecycle, from project conception and grant submission to sharing results with the world and creating commercial opportunities.
The Office of the Vice Provost for Research & Scholarship gathers upcoming funding opportunities into a once-weekly email distributed each Wednesday. To promote a funding opportuntity in the newsletter, email Melissa Peerless for foundation opportunities or Eva Olivares for other categories of funding opportunities.
---
Notice of Proposal Eligibility
Note that when a proposal is selected for funding, the sponsor will provide their terms and conditions to the University to review, negotiate and accept. Sponsors do not negotiate terms before the award is issued and the terms are often not publicly available. The Office of Research Administration works hard to ensure the terms are agreeable to the sponsor and acceptable to UM.
December 1, 2022 by 5PM
This year's U-LINK call seeks to address the unique challenges facing healthcare innovations and innovations. This call for applications will: 1) support building a sustainable and meaningful partnership with an academic or community partner; 2) support projects that will identify, develop, and/or test strategies to enhance the adoption, adaptation, integration, scale-up, sustainment, and commercialization of evidence-based interventions, practices, programs, tools, treatments, guidelines, and policies; 3) promote the submission of grants to the NIH and/or other external funding agencies; 4) build trust and engagement among team members and collaborators to build sustainable partnerships before conceptualizing and submitting a grant for effective implementation research and practice; and 5) promote scholarly publications and scientific presentations derived from these proposals.

Eligibility and Funding Priorities

We plan to fund new teams of faculty representing at least two distinct disciplines. Priority will be given to teams that approach this challenge by establishing creative collaborations drawing from diverse methodologies and/or approaches to scholarship and problem-solving (e.g., a team comprised of individuals from humanities, social science, engineering, design, and basic science). Meaningful engagement of community and/or external partners is required. Strategic partnerships for research start-up and connections with external agencies for commercialization of product and/or intervention tools can be supported. Partnerships with other universities and/or outside institutions are welcome; external collaborators are encouraged to leverage matching funds from their own institutions. Collaborations with the UM-led Hemispheric University Consortium (HUC) are strongly encouraged. The HUC includes 13 member institutions in Canada, Latin America, and the Caribbean and was formed to support cross-border and interdisciplinary collaborations in research, teaching, and training. We encourage and look forward to creative applications that demonstrate interdisciplinarity across multiple Schools and Colleges.

Application DetailsApplications are due by 5pm on December 1, 2022. Proposals will be submitted via the InfoReady System.  Learn about the guidelines and view the complete RFA here.  

QuestionsFor questions about this funding opportunity, contact Erin Kobetz, PhD, MPH (Ekobetz@miami.edu). For questions about the application process and/or the InfoReady system, contact Eva Olivares (eolivares@med.miami.edu).
Open call (applications accepted at any point throughout the year; awards based on availability of funds)
The OVPRS and OFA are providing a one-time relief funding opportunity for ongoing research and scholarship. We are specifically targeting faculty needing to: 
Cover costs related to research/scholarship (e.g., paying graduate assistants to travel to study sites) 
Transition data collection efforts to a different modality and/or exploring new research/scholarly methodologies to overcome study limitations 
Collect limited pilot data which would support an application to an extramural funding agency 
*This list is not exhaustive and is intended to provide examples of the types of support potentially provided via this funding mechanism. 

Award Amount and Allowability 

Up to $10,000 in funds can be requested for direct research and scholarly expenses incurred during the award period. Funds cannot be used to pay for faculty salary.   

Allowable expenses may include: 
Purchase of supplies and other direct research costs, such as travel (when allowed and subject to University of Miami travel guidelines), creative materials, access to archives, data collection, participant or stakeholder incentives, software, web designers, and rent for performance space
Utilization of University-based cores and other support services
Compensation for undergraduate and graduate students
External research/scholarship support services (with justification)
Eligibility 

All full-time University Faculty (i.e., regular, research, librarian, and educator faculty) are eligible to apply.  Adjunct and instructor faculty are not eligible for this award.   

Please see RFA for additional information. 

Proposals should be submitted via InfoReady (https://miami.infoready4.com/#competitionDetail/1887255). 
Limited Submission Competitions are external solicitations that limit the number of proposals an institution may submit. Anyone wishing to apply to a limited submission award (one which limits the applications that can be received from each institution) must coordinate with Eva Olivares in Research Development & Evaluation.
January 3, 2023 by 5PM
Program Announcement: https://www.statnews.com/

Note: To be considered for this competition, interested applicants MUST submit an internal application via the InfoReady System (see 'view competition' link below to apply).

Purpose: STAT Madness is a celebration of extraordinary science and school spirit. It's a chance to brag about your alma mater and its work on the frontiers of medicine. We are thrilled to announce the STAT Madness competition, when universities, medical schools, and nonprofit research institutions compete for recognition that they have produced the most exciting biomedical discovery or innovation of the past year. STAT Madness is a contest in two parts: one, a fan favorite, voted on by you, bracket-style, and two, an editors' pick of the top innovation or discovery of 2022 in biomedical science.

Eligibility:
Research performed at any accredited U.S. university or college and published in a peer-reviewed journal in 2022.
Research performed at any research institution or medical center affiliated with an accredited U.S. university or college, and published in a peer-reviewed journal in 2022.
Research performed at any research institution not affiliated with an accredited U.S. university or college, so long as one of the collaborators on the research team is from an accredited U.S. university or college; the research must have been published in a peer-reviewed journal in 2022.
Internal Submission Deadline: Tuesday, January 3, 2023 by 5 p.m. ET
November 17, 2022 by 5PM
Program Announcement: https://www.dol.gov/sites/dolgov/files/ETA/Nursing%20Expansion%20-%20FOA-ETA-22-16.pdf

Purpose: The purpose of this program is to increase nursing instructors and educators, and to expand and diversify the pipeline of nursing professionals who can fill quality jobs to boost the nation's healthcare systems while advancing equity. The U.S. is facing a healthcare workforce crisis, particularly for nurses, due to a variety of factors, many of which impact job quality, including an aging healthcare workforce; lack of qualified instructors, educators, and preceptors; workload intensity and burnout; high patient-to-nurse ratios; and an increased demand for healthcare workers, all compounded by the global COVID-19 pandemic.

Internal Submission Deadline: Thursday, November 17, 2022 by 5 p.m. ET

Note: Faculty from the School of Nursing and Health Sciences (SONHS) have taken the lead on this application.
December 15, 2022 by 5PM
Purpose: The Mary Kay Ash Foundation, a funding source for cancer research, is currently accepting applications for innovative grants for translational research of cancers affecting women, including but not limited to breast, cervical, endometrial, ovarian, uterine or cancers predominantly affecting women.

The grant will be up to $100,000 ($50,000/year combined direct and indirect costs) for a two-year period. The Foundation anticipates funding between 10 and 15 grants.

Eligibility: Principal Investigator must be appointed a full-time assistant professor or higher at the time of application submission and commit a minimum 5% effort.

Internal Submission Deadline: Thursday, December 15, 2022 by 5p.m. ET
November 18, 2022 at 12:00 Noon

The Wallace H. Coulter Center for Translational Research (WHCC) is now accepting applications for its FY24 Commercialization Awards.

The WHCC provides funding up to $125,000 for one-year and expertise for projects that address an unmet clinical need and have commercial potential.  

The goal of the awards is to commercialize UM innovations by funding translational projects that are post discovery phase and require specialized expertise in product development and technology transfer. WHCC resources are not intended to support basic research.

DEADLINE: Completed applications must be received by Friday, November 18, 2022 at 12:00 Noon.

Download the Application Here: https://bit.ly/WHCC-FY24-RFP

Complete proposals with signatures should be submitted in one electronic PDF document to the WHCC (Coulter@med.miami.edu). Questions should be submitted via email to the attention of William Silverman.

Applications submitted in any other format will not be accepted.

Important information regarding funding eligibility and application instructions are included in the RFP.   Please note: all applicants are expected to meet with WHCC staff well before the submission deadline to review project and PI eligibility and increase the strength of the proposal.  
December 7, 2022
Funding Opportunity Description: This funding opportunity provides 'seed money' to beginning (junior) investigators who have no current peer reviewed research grant support, with the goals of encouraging cancer research and serving as a catalyst for the submission of national research grants. Awardees are expected to agree to participate in research-related activities at the request of the ACS. Funding Opportunity Purpose: This competition is a result of an ACS Institutional Research Grant to the University of Miami. The purpose is to support junior faculty and encourage independent cancer research. Award Budget: $55,000
December 1, 2022, by 11:59 p.m.

 

The Miami Clinical and Translational Science Institute (CTSI) is offering funding opportunities to support innovative, interdisciplinary, health disparities-oriented and clinical translational science research proposals that align with the CTSI goals of improving community health, addressing disparities, and promoting health equity.

Up to four meritorious projects of up to $40,000 each will be funded for fiscal year 2023. Funding is prioritized for projects that directly relate to health disparities, or address challenges in health areas that disproportionately affect minority health and/or underserved populations. The award period is 12 months.

Eligibility
Only full-time faculty at the ranks of Assistant or Associate Professors are eligible to apply as Principal Investigators (PI). Full Professors may serve only as co-investigators or mentors.
Jackson Health System and Miami VA full-time faculty may apply as PI, with at least one full-time UM faculty co-investigator.
Proposals submitted by women, individuals from disadvantaged backgrounds, and/or individuals from racial/ethnic groups underrepresented in sciences and medicine are encouraged.
Info Session

There will be a virtual informational meeting on Thursday, November 3 at 5 p.m. Register in advance here.

Deadline – Applications are due Thursday, December 1, 2022, by 11:59 p.m.

For more information, including the complete Funding Opportunity Announcement, additional application details, important dates, and submission link, visit www.miamictsi.org/pilot-awards.
Foundation
& Corporate Grants
Please contact the Office of Corporate and Foundation Relations if you would like to pursue any of the following corporate or foundation funding opportunities. The team can provide assistance with writing, editing, institutional information, and application submission.
Pre-Proposal Deadline: November 17, 2022 (3:00 p.m. ET)
The Doris Duke Clinical Scientist Development Award (CSDA) aims to enable physician scientists pursuing research careers to advance human health.

The program supports Assistant Professor rank physician scientists to:
Conduct an outstanding clinical research project with high significance and potential to improve human health;
Enable research time protection, to ease the tension between research and clinical responsibilities, and;
Facilitate development of strong mentorship relations in a supportive institutional environment
Applicants must propose a clinical research project with strong potential to impact the corresponding field and be achievable within the 3-year grant period.

Projects supported are expected to drive insights into mechanisms of disease, and improvements to patient care and population health, whether in the near or long term.

Each proposal must include a mentor or team of mentors, who will play an active role in fostering the applicant's career development.
Proposed projects may not utilize non-human animals or any tissues derived from them.
Applicants must have been appointed to their first post-training, full-time Assistant Professor position between December 1, 2018, and December 1, 2021.

The Doris Duke Charitable Foundation encourages individuals from groups underrepresented in biomedical research to apply.
Grant Amount: $150,000 per year, for 3 years (PLUS 10% indirect costs)
Pre-Proposal Deadline: November 17, 2022 (3:00 p.m. ET)
Eligibility:

Individuals at the Assistant Professor rank with research experience and contributions consistent with that rank, in addition to committed mentorship and institutional support;
An MD, DO, or foreign equivalent degree;
A valid, active US medical license;
A full-time faculty appointment;
Have not served as PI of an extramural multi-year research grant/cooperative agreement/contract with annual direct funding of $225,000 or higher with a start date prior to July 1, 2023;
Have not applied for an NIH R01 research grant or equivalent with a start date prior to July 1, 2023;
Be guaranteed a minimum overall research time protection of 75% of full-time professional effort, in the event an award is made.
If you are interested in submitting a pre-proposal for the Doris Duke Clinical Scientist Development Award, please contact the Office of Foundation Relations at foundationrelations@miami.edu.
Deadline: Rolling
The Glenn W. Bailey Foundation aims to foster pathways to success in globally competitive STEM careers for students in the United States by supporting projects which encourage, enhance and advance STEM education in the United States; and promoting projects which provide career opportunities for individuals with STEM education backgrounds.

Specifically, the Foundation seeks to fund projects and programs that give students and educators more resources for developing and participating in STEM-based, hands-on learning.

Programs supporting students in preschool through high school, or collegiate or vocational studies is eligible.

A key focus area for the foundation is: innovative environmental projects/ideas that benefit Florida's unique ecosystem.

This includes initiatives aimed at restoring the Everglades and Florida's coral reefs, beach-plastic remediation, ocean and/or Everglades education programs for K-12 students, and wildlife habitat education and/or restoration.
Grant Amount: $25,000 to $75,000 over one year
If you are interested in submitting a proposal to the Glenn W. Bailey Foundation, please contact the Office of Foundation Relations at foundationrelations@miami.edu.
November 18, 2022 by 5PM