On behalf of Erin Kobetz, Vice Provost for Research + Scholarship
Have you completed your disclosures?
If your UDisclose System Disclosure Profile (DP) remains in the "Action Required" state you are late in submitting your DP in the UDisclose system. Even if you have no activities or relationships to disclose, you must complete the submission process.  
Why are you required to disclose?
The University of Miami implemented the new Conflict of Interest, Conflict of Commitment, Foreign Influence, and Institutional Conflict of Interest Policy which addresses institutional vulnerabilities related to Conflicts of Interest (COI) and Foreign Influence. To protect the University's mission and exceptional reputation, the new policy widens the breadth of UM's previous COI policies, requiring all Covered Persons, to disclose their outside interests to UM. 
A COI arises when the interests of a Covered Person, or those of the University at large, influence, affect or are affected by the University's educational, clinical care, and scholarly activities. 
To submit your Disclosure Profile (DP):
Log in to UDisclose.Miami.edu  using your Cane ID/password.
Under the "My Inbox" tab, click on your personalized link that says "Disclosure Profile for " to access your DP.
Decide if you want to add disclosures or simply submit the form:
If you want to continue editing the smart form, click the "Edit Disclosure Profile" button.

OR
B. If you have NO additional changes and want to submit your Disclosure Profile, click the "Complete Disclosure Profile Update" button on the left-hand toolbar.

When successful, the orange status bar on the upper left will read "No Action Required."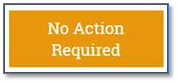 Several UDisclose training resources are available to help you navigate the new system, including a Discloser 101 guide.
If you have any technical issues with the UDisclose System, please contact the Office of the Vice Provost for Research + Scholarship (OVPRS): 305-243-2314 or OVPRShelpdesk@miami.edu.
Do not hesitate to contact the UDisclose helpline (305-243-0877) with questions about the policy, what needs to be disclosed, etc.
I appreciate your cooperation with this important compliance activity.
With best regards,
Erin Kobetz
Vice Provost for Research + Scholarship