2020 Graduate + Postdoctoral Research Symposium
Dr. Hansel Tookes, Assistant Professor and alumnus of the Miller School of Medicine, and Founder and Medical Director of Florida's IDEA Exchange syringe access program, will headline the half-day symposium on March 5. Register now!
| The application deadline for Spring 2020 Commencement Student Speakers is March 6, 2020. | Microbiology and immunology doctoral student, Cameron Bader, speaks on his accomplishment of receiving a prestigious award from the National Cancer Institute. |
| --- | --- |
| The Fourth Annual University of Miami Three Minute Thesis Competition took place on February 5, 2020, at the Kislak Center. | A cadre of graduate students with the Miami Herbert Business School's interdisciplinary action project class met with Bahamian students and local businesses in Freeport to share ideas and inspire hope. |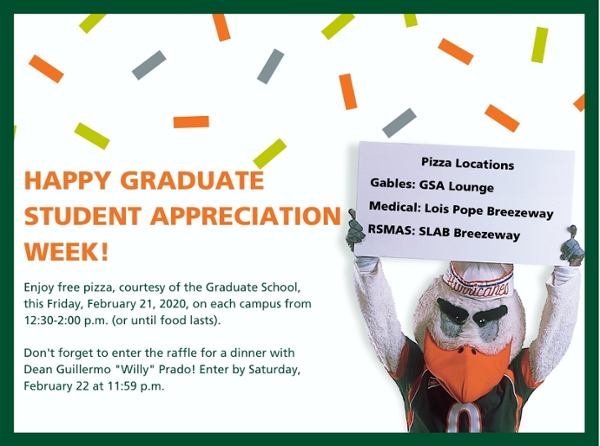 Take the 2020 Campus Climate Survey to end sexual violence on campus! Survey results will help guide efforts to foster an inclusive campus. Complete the survey now!
The Office of Science Graduate Student Research (SCGSR) program is now accepting applications for its funding program. The SCGSR program provides supplemental funds for graduate awardees to conduct part of their thesis research at a host DOE laboratory/facility. Graduate students currently pursuing Ph.D. degrees in areas of physics, chemistry, material sciences, biology (non-medical), mathematics, engineering, computer or computational sciences, or specific areas of environmental sciences that are aligned with the mission of the Office of Science are eligible to apply. For full eligibility requirements and instructions to apply, visit science.osti.gov/wdts/scgsr.
NVivo software is a qualitative data analysis software package that works with very rich text-based and/or multimedia information, where deep levels of analysis on small or large volumes of data are required. NVivo helps users organize and analyze non-numerical or unstructured data. It allows users to classify, sort and arrange information; examine relationships in the data; and combine analysis with linking, shaping, searching, and modeling. The researcher or analyst can test theories, identify trends and cross-examine information in a multitude of ways using its search engine and query functions. Download now!
The Ibis Yearbook is taking yearbook portraits for the 2019-2020 school year! All students are encouraged to stop by and take their portrait. Portraits are being held in the Shalala Student Center on the Second Floor, from Feb 17-28 (weekdays only) from 10:00 a.m.-6:00 p.m. All of those graduating must make an appointment at ibisyearbook.com. Both a sitting fee and business attire is required. For more information, visit ibisyearbook.com or email editor@ibisyearbook.com.
Graduating in spring and looking to stay in Miami? The University has over 30 open positions for postdoctoral fellows from a variety of disciplines. Visit postdoc.miami.edu to view openings and apply!