Dear SEHD Faculty, Staff, Students, Family, Friends and Alumni,
It is hard to believe we made it here - the start of a new academic year that looks *almost* like what it looked like in 2019. As I have mentioned to several people, it feels a bit like we went from hibernation to being "back" in zero to 60 m.p.h.  I am incredibly excited to start the fall term with students actively on campus, faculty visibly preparing for classes, and staff members re-establishing or creating new routines - and all of us together to tangibly drive our mission of transformation through education in person, and in community. We have learned a great deal over the past year - about how to better utilize technology, how to quickly innovate pedagogically, and how to engage remotely. We will incorporate these opportunities as we move forward with a full array of teaching, learning and working tools to draw from and, we will do so safely as the pandemic continues to affect our lives. Please reach out and let us know how you have been affected, how you may have learned, or taught or evolved in specific ways by sending us an email at SEHDEngagement@miami.edu.  And, please join us in celebrating the start of a new school year!
All my best,
Laura
Dean, School of Education and Human Development
| | Laura Kohn-Wood, dean of the School of Education and Human Development, has praised Klein Kassenoff. She called her "indomitable" because of her tireless work with the institute and Jewish education. Read More |
| --- | --- |
| | To signal the importance of their dedication to providing exemplary education and the commitment to growth, the inaugural Provost's Teaching Awards recognizes individuals who continue to remain at the forefront of the evolution of education. Read More |
| --- | --- |
| | Thrilled to see SEHD student, John Carlo - doctoral student in the Applied Learning Sciences program - recently honored as Science Teacher of the Year - featured in the news! Read More |
| --- | --- |
| | "These are some of the best athletes of all time, and they are absolutely top-notch in terms of their physical skills and how strong they are in their particular sport," Perry explained. "But it's also the upgraded and updated training they are integrating into their sports that's also helping them. Read More |
| --- | --- |
| | Two professors from the School of Education and Human Development have been selected to study how people all around the world flourish. Read More |
| --- | --- |
| | The School of Education and Human Development and the School of Law spearheaded the academy's launch at the University in 2017, welcoming a cohort of students—9th-graders at the time—for their first month-long summer residential stay on campus. Seventeen of the original 21 students graduated, and several who already began their university studies connected remotely to the ceremony. Read More |
| --- | --- |
| | Dr. Arlette Perry, professor in the Department of Kinesiology and Sport Sciences in the School of Education and Human Development, tennis is "like playing a physical chess match" that can be taxing for the athlete. Read More |
| --- | --- |
| | SEHD Asst. Professor Dr. Jennifer Kahn leads a multidisciplinary team of investigators (Soyeon Ahn, Education and Psychological Studies, Debbiesiu Lee, Education and Psychological Studies, Ching-Hua Chuan, Cinema and Interactive Media; Patricia Jones, Medicine) to counter discriminatory bias across data science fields. Read More |
| --- | --- |
| | If Kysha Harriell, M.S.Ed. '99, M.S.Ed. '01, Ph.D. '10, were to offer a juggling performance with a hat for each of her University responsibilities, it would surely be a mesmerizing show. Read More |
| --- | --- |
| | Thanks to the generous support of a CREATE Grant from the Andrew W. Mellon Foundation, SEHD's Dr. Matthew Deroo built upon his ongoing partnership with the Lowe Art Museum and Jodi Sypher, Curator of Education, to enact Learning with the Lowe, a student-generated project that provided a unique opportunity to share artwork from the Lowe Art Museum with local schools across the Miami-Dade community and beyond. Read More |
| --- | --- |
| | Persons with spinal cord injuries are at much greater risk for cardiovascular and metabolic diseases, such as obesity and type 2 diabetes, compared to the general population. Read More |
| --- | --- |
| | Monique McKenny, a fourth-year counseling psychology doctoral candidate, explores cultural strengths of Black families and the communications between youth and caregivers about race and racial experiences. Read More |
| --- | --- |
| | Performance assessments are crucially important for examining students' placement, promoting teaching and learning, and increasing future successes. Dr. Jue Wang's work has been selected to receive a Provost's Research Award for FY22. Read More |
| --- | --- |
The School of Education and Human Development would like to announce its newest members of the faculty. We wish them a successful academic year and look forward to learning more about them in the coming months.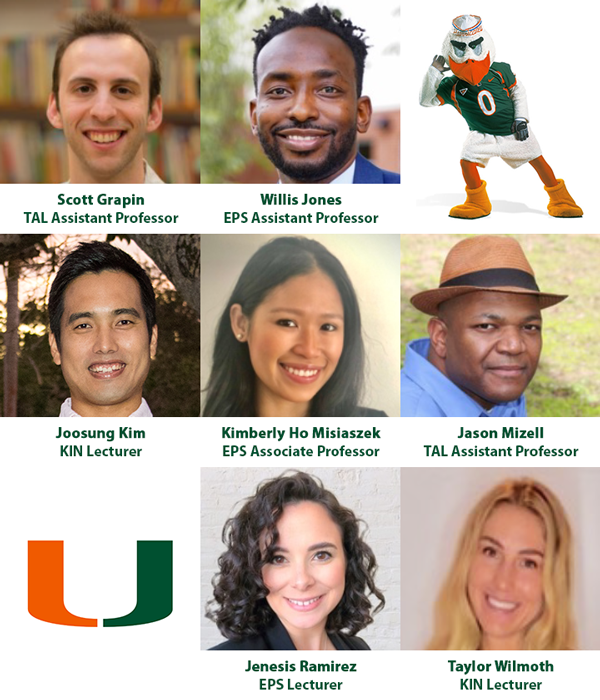 Congratulations to Dr. Bryan Mann from our Kinesiology and Sport Sciences department who was invited to give the closing keynote address, Current Trends in Velocity Based Training, at the 2021 National Strength and Conditioning Association National Conference.  Click on the link to learn more about his talk and the conference:  2021 NSCA National Conference.
Kristen Casanas, SEHD alumna, won Rookie Teacher of the Year from MDCPS at South West Senior High AND received her Master's in the Dept. of Teaching and Learning's Special Education Program Spring 2021!
D'Jarius Orien "Jay" Jones EdD '21 Applied Learning Sciences Doctoral Program graduate was chosen to be the Graduate Ceremony Student Speaker at the 2021 UM commencement ceremony. 
Dr. Ashmeet Oberoi received the Early Career Award from the Division of Community Psychology of the American Psychological Association. The purpose of the SCRA Early Career Award is to recognize community psychologists who are making a significant contribution to the field of community psychology and to APA Division 27, Society for Community Research and Action.
Thanks to Dr. Kevin Jacobs for all the work he has put in this summer to rebuild our grant submission team. Thank you to all who were involved with the process!
Congratulations to Dr. Nam Ju Kim for receiving foundation funding from an anonymous donor for his project "AI Based Motivation Indicator" – Phase II.
Congratulations to  Deborah Perez, in the Teaching and Learning Ph.D. program, and Brittany Davis, currently enrolled in the Richard J. Kurtz Family Community Well-Being Ph.D. program who have been awarded UM's Graduate School Dissertation Fellowship awards for 2021-2022. The award is given to two Ph.D./Ed.D./D.M.A. students who have been admitted to candidacy from across the entire University. Way to go!