April 19, 2018
Dear Colleagues,
I am delighted to announce that once again the U is a magnet for great talent.  Effective June 4, Michael (Mike) Dunlap will join the University as Associate Vice President and Controller.  I am confident that Mike's outstanding experience and knowledge will be an asset to the University.
Mike has served as an Associate Vice President and Controller for Washington University in St. Louis since 2002.  He has been with Wash U for more than 23 years and has been instrumental in developing and maintaining internal controls across a large, complex, decentralized organization.  Mike also led efforts to increase annual net income, and identify and mitigate risk across the University.
In his role at UM, Mike will be responsible for the University's principal accounting, financial reporting, internal controls, and tax functions.  He will be charged with creating an environment that promotes collaboration, timely financial reporting, and sound policies and practices.
Please join me in welcoming Mike to the team.
Go 'Canes!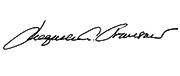 Jacqueline A. Travisano, Ed.D.
Executive Vice President for Business and Finance
and Chief Operating Officer