Miami Business School is honored to host the inaugural Diversity & Inclusion Conference in Storer Auditorium on Thursday, September 26 from 8 am until 3:30 pm. As a student-driven initiative, this event is open to ALL 'Canes enrolled at MBS and UM, regardless of program or academic year. 
Join us as we celebrate diversity – a core Value for MBS and the University of Miami – and to promote thoughtful, sustainable inclusion. During this debut event, attendees will enahnce their understanding of current events and of each other, through thought-provoking guest speakers and dialogue.
We kindly request that attendees adhere to a Business Casual dress policy.
Breakfast, lunch and afternoon refreshments will be provided courtesy of Miami Business School. Below you will find a preview of the conference program, a registration link and additional event information.
We hope to see 'U' there!
#TomorrowLivesHere
Join us for what promises to be an inspiring program with a robust turnout of MBS and UM students, alumni, faculty, staff and supporters. There is no cost to attend. Please click on the link below to register.



7:30 AM
Registration opens, light breakfast
8 AM 
John A. Quelch, Dean, Miami Business School – Introductory Remarks
8:10 AM
Jeffrey Duerk, Executive Vice President for Academic Affairs and Provost, University of Miami
8:20 AM 
Hilarie Bass, JD'81, President at Bass Institute for Diversity and Inclusion, Chair of the Board of Trustees, University of Miami
9:05 AM 
Q&A Session

9:15 AM

Alumni Perspective and Fireside Chat

Moderator: Patricia Abril, Vice Dean, Graduate Business Programs and Professor, Business Law
Panelists:

Alice Vilma, BBA'99, Managing Director, Morgan Stanley
Jonathan Vilma, BBA'04, ESPN Analyst, Former NFL Player

10 AM
Q&A Session
10:15 AM
Coffee break, refreshments

10:30 AM

Discussion I, Leadership Panel: "Enhancing the Campus Climate"

Moderator: Laura Kohn-Wood, Dean and Professor, School of Education and Human Development
Panelists:

Ryan Holmes, Associate Vice President for Student Affairs and Dean of Students 
Shirelle Jackson, Senior Associate Athletic Director of Student-Athlete Development
Marvin Dawkins, Professor of Sociology

11:15 AM
Q&A Session
11:30 AM
Whitley Johnson, Senior Academic Advisor for Diversity and Inclusion
11:50 AM
Q&A Session
11:55 AM
Networking Lunch featuring Toppel, Ziff and UM student organizations

1 PM

Discussion II, Faculty Panel: "Creating Value by Transforming Culture"

Moderator: Miriam Lipsky, MSED'05 and PHD'11, Assistant Provost for Institutional Culture
Confirmed Panelists:

Roderick King, Senior Associate Dean for Diversity, Inclusion and Community Engagement, Associate Professor, Dept. of Public Health Sciences and Dept. of Pediatrics; Associate Professor, Dept. of Health Management and Policy, Miami Business School
Merike Blofield, Professor of Political Science, Director of Gender and Sexuality Studies
Tywan Martin, Associate Professor, Dept. of Kinesiology and Sport Sciences

1:45 PM
Q&A Session

2 PM

Discussion III, Corporate Panel: "Designing for Diversity: Let the Data Lead You"

Moderator: Marisol Capellan, MSMS'18, Lecturer, Management and CEO and Co-founder of the Planning Management Company LLC
Panelists:

Carolina Cardoso, BA'94 and MBA'96, Market Leader for Global Inclusion and Diversity, Accenture
Lourdes Rodriguez, BBA'00 and MBA' 02, Senior Vice President, Northern Trust

2:45 PM
Q&A Session

3 PM

Ellen McPhillip, Assistant Dean, Undergraduate Business Education

Reflection and Closing Remarks
* Tentative schedule, with additional panelists and special guests to be announced soon!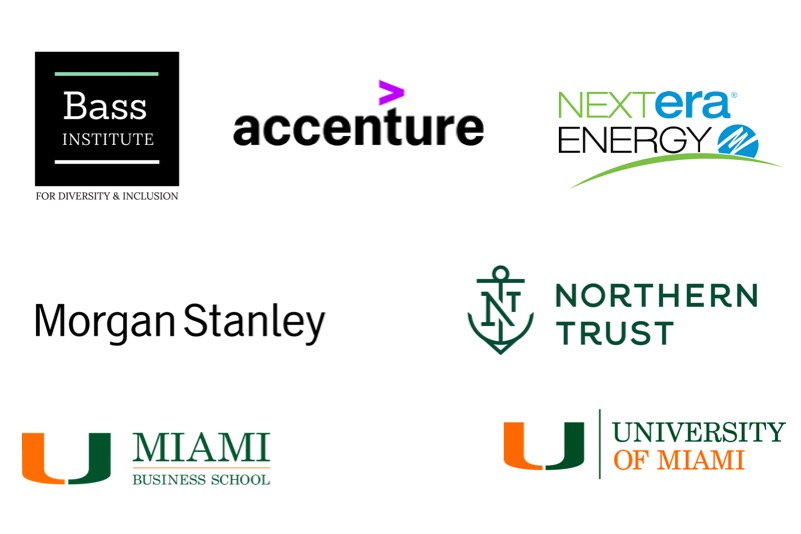 If you or your organization/business would like to get involved or if you would like to receive more information, please contact Rony Shir, Director of Alumni & Corporate Engagement from the Development & Alumni Relations Office, by emailing 

rshir@mbs.miami.edu

or calling (305) 284-4052.