IBISResearch April Training Update
IBISResearch Training Continues Virtually
As we prepare for the launch of IBISResearch we continue to offer our IBISResearch trainings virtually to mitigate the transmission of the coronavirus and ensure everyone's safety. 
Below are the IBISResearch educational offerings for the month of April.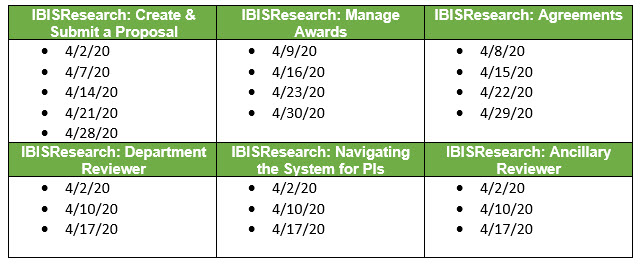 Participants who register through ULearn will be provided a Zoom link 24 hours prior to the scheduled training date along with the necessary handout materials. Our trainers will be online to answer your questions and assist you with the hands-on portion of the sessions which are offered as hands-on-workshops (1. Create & Submit a Proposal, 2. Manage Awards and 3. Agreements).  
The classes below will be available in ULearn as videos after April 17:
IBISResearch: Ancillary Reviewers
IBISResearch: Department Reviewers
IBISResearch: Navigating the System for Principal Investigators 
We will notify the UM Research Community as soon as the videos are available in ULearn. 
Virtual Drop-In Labs Coming Soon
Also, stay tuned for information about IBISResearch Drop-In Labs available throughout the month of April. 
For those individuals that are unable to participate in virtual instruction, please contact ora-si@miami.edu to discuss alternate training options.