We invite you to watch this video and take the Green U survey to assess your knowledge of sustainability!

In 2019, the University of Miami earned a Gold rating on the Sustainability Tracking, Assessment, and Rating System (STARS) in recognition of its sustainability achievements from the Association for the Advancement of Sustainability in Higher Education (AASHE). By taking this survey, you will help us improve our 2022 rating. The ultimate goal of this survey is to learn how UM can do a better job in educating its community about sustainability and environmental issues. The best answers to the open question will receive one of the following prizes: a bike, a hammock, a beach chair, or a cooler—courtesy of Coca-Cola Florida!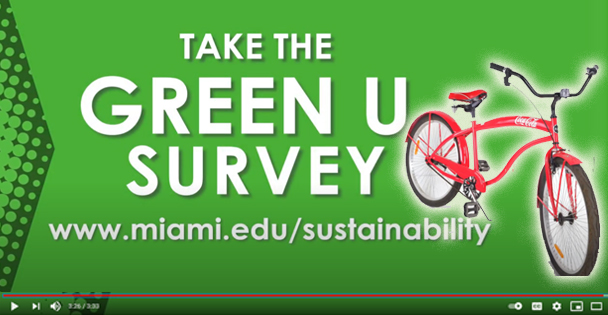 In 2015, Raul Velarde graduated from the University of Miami with a B.S. in Environmental Engineering and an M.S. in Civil Engineering, concentrating in Sustainable Design and Construction. Raul is now the Project Solution Development and Sustainability Manager for Turner Construction, South Florida.

A true 'Cane, Raul served as President of the College of Engineering Alumni Association. We invite you to join us to learn about his trajectory, and what made him choose his career on Tuesday, September 21 from 12-1 p.m. RSVP online now!
| This 1-hour webinar will give you an overview of all the alternative transportation options available to UM students, faculty, and staff. Transportation is a major source of greenhouse gas emissions and other pollutants that contribute to health problems such as heart and respiratory diseases and cancer. The Alternative Mobility 101 webinar will grant you 50 points on your Well 'Canes account. Register through ULearn (keywords: "Alternative Mobility"). | This 1-hour webinar will give you a chance to understand the relationship between our food system and the planet, as well as between our diet choices and climate change. Feel better, be healthier, and be a good steward of our environment! The Sustainable Food and Diet 101 webinar will grant you 50 points on your Well 'Canes account. Register through ULearn (keywords: "Sustainable Food and Diet 101"). |
| --- | --- |
GREEN U and ECO
ON SOCIAL MEDIA