Environmental Health & Safety
from the Director's Desk
We're proud to introduce the first Environmental Health & Safety (EHS) newsletter!

EHS is committed to providing a safe and healthy workplace for the University's faculty, staff, and students. As part of our mission, we provide support and training to avoid occupational, biological, chemical, and radiological hazards. To keep our community informed on safety news, regulations, and ongoing updates within our department, we are pleased to present you with this new quarterly newsletter.

In addition, you can find the latest EHS information at any time on our website (ehs.miami.edu), which has been updated to include two quick resources for assistance in reaching out to EHS: a contact page representing the leaders and contact information for each of our safety groups, and a "Report Safety Concerns" button, located on the homepage, which allows you to send an email to us when you have a general concern or if you are not quite sure who to contact.


We hope you find this information informative and useful, and we look forward to continuing to assist you in a safe and productive manner.

Warm regards,

Jennifer Laine, DrPH
Executive Director, EHS

See the EHS Management structure here
One of the significant changes that COVID-19 has brought to the University is the mandate for flu vaccinations. With this mandate came many adjustments and improvements to our flu campaign process. The vaccination season officially begins in September and lasts through December; however, our work for procuring vaccines, preparing for the season, administering vaccines, and compliance extends year-round.
Many departments came together this season to improve the process, streamline service to the University community, and to provide a new compliance record system, including: Workday, UMH Business Administration, Human Resources, Benefits, Communications, UHIT, the Employee Health Offices, Healthy 'Canes, and Student Health. As part of this program, Employee Health, Student Health, and Healthy 'Canes worked together to provide vaccines across all three campuses. To date, the U is at over 97% compliance and counting! Preparations are already underway to prepare for the 2021-2022 flu season. Thank you for contributing to the season of this year's campaign and the health and safety of our community.
For more information, please visit the Seasonal Flu Vaccine page on our EHS website.
As research starts to roll again, the Radiation Control Center is reaching out to currently authorized users of radioisotopes for Non-Human use research. Non-Human use means that, while the research may utilize material of human origin, no radiation or radioactive materials are given directly to humans. With the time that has passed due to the pandemic, we want to make sure that all of the required paperwork is in place, training is up to date, and authorizations have been renewed if the expiration date is approaching or has passed. We visited all Authorized Users' laboratories to verify the starting inventory of radioisotopes and ensure that any waste material was properly disposed of by the lab's approved disposal methods. We have also transitioned much of our Technician-Level training to an online platform, and we are exploring the possibility of doing more in that area.
If you are a current user, or if you have a new need to use radioactive materials in your research, please contact Dr. Diana Hernandez, Ph.D., of the Radiation Control Center, at (305) 243-6360 for assistance with becoming an Authorized User or adding an additional use of materials. Dr. Hernandez has replaced Carlos Castillo, who retired, as the Assistant Radiation Safety Officer for Non-Human Use.
The primary goals of our Fire Safety team are to recognize hazardous conditions and take appropriate action before such conditions result in a fire emergency. These goals are accomplished by:
Ensuring fire and life safety compliance with all federal, state, and local fire code regulations.
Liaising with local authorities having jurisdictions (AHJs) for all campus inspections and subsequent compliance issues.
Conducting periodic campus-wide fire and life safety inspections.
Conducting third party fire and life safety audits.
Conducting periodic inspections of all fire suppression/detection equipment campus-wide.
Training of faculty, staff, and students on basic fire safety, including fire extinguisher usage.
Conducting periodic fire exit drills.
Remember STOP, DROP, AND ROLL still works!
As children, most of us learned and practiced the stop, drop, and roll technique. As an adult, this method is still good for you! If you or your clothes catch on fire: stop, drop, and roll. Stop, drop to the ground while covering your face with your hands, and roll over and over (back and forth) until the fire is out.

If you cannot stop, drop, and roll, use a fire blanket to help you or others smother the flames.
Do you have any old, unused, unwanted, or deteriorating chemicals or batteries? EHS's HazMat group can get rid of them for you. Just fill out the Chemical Waste Disposal form, and we will come by and pick them up. There is no charge for this service. (Remember that typical alkaline batteries may be disposed in the trash.)

To access the form, visit the EHS website at ehs.miami.edu and click on Environmental Protection and Hazardous Materials on the homepage. On this page, you'll have access to the Chemical Waste Disposal form. Instructions on how to fill out and submit the form are listed as well.
The Biosafety Office has evolved and grown this year—including a new and improved website, new faces, new posters, new trainings, and new guidance! Our new Biosafety Officer, Shane Gillooly, has been aiming to refresh the services provided to the UM campuses while modernizing resources and content. If you have not had a chance yet, check out the new website, browse the offerings, and view some of the new signage available to post in your laboratory.
Many of these new developments were highlighted during this year's Biosafety and Biosecurity Month, which featured a coordinated campaign between the Biosafety Office and the IBC Office. The overall goal of this campaign was to raise awareness of EHS while promoting a culture of biosafety and responsibility on our campus. If you missed it, you can still check it out on our website.
The Biosafety Office intends to continue this brand of development, so stay tuned in for these offerings on our website! Click here to visit the Biological Safety page on our EHS site.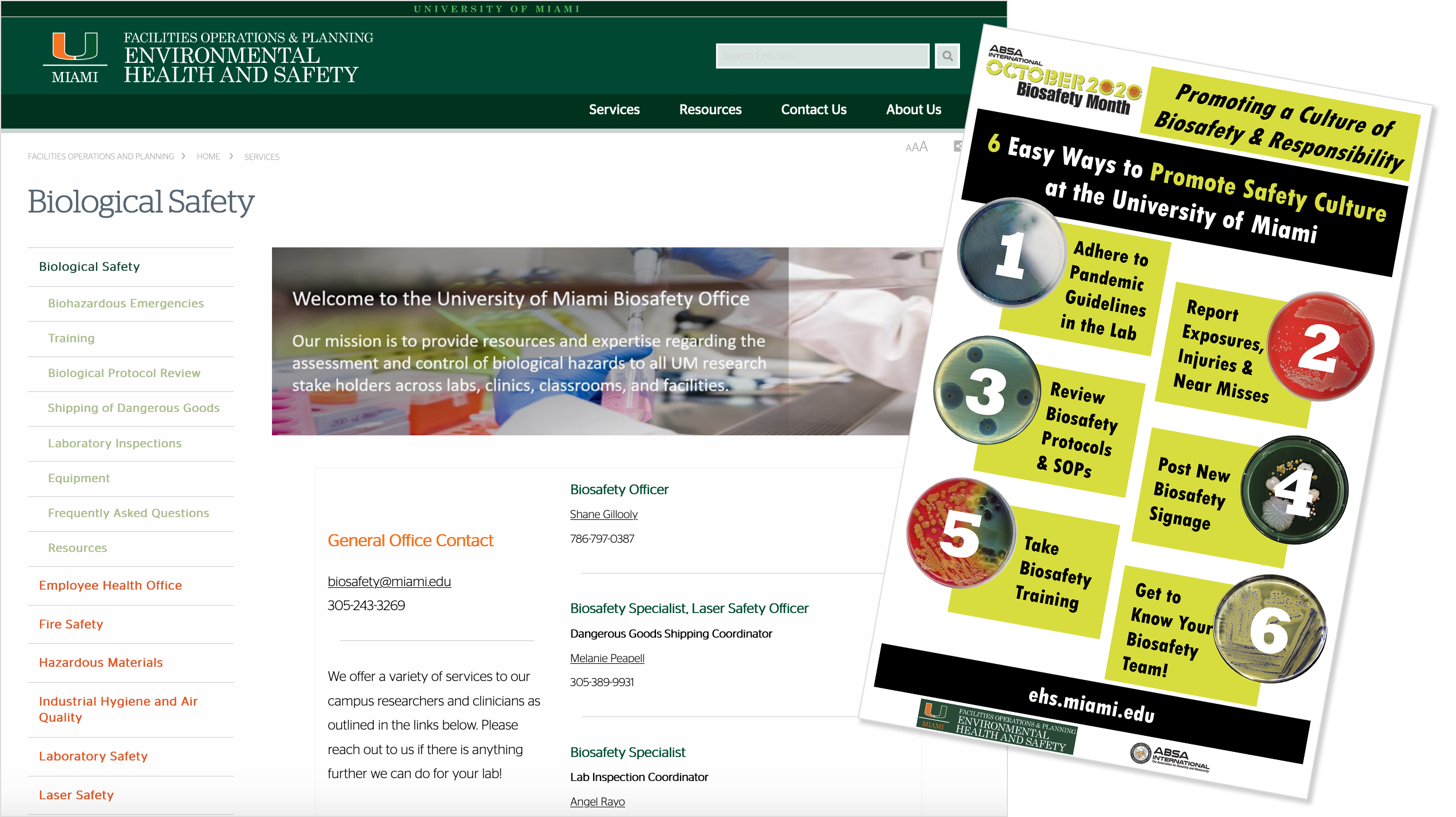 Our Industrial Hygiene (IH) team keeps busy with a variety of safety topics aimed at protecting our UM community from hazards that may result in injury or illness. Please reach out for questions on personal protective equipment, noise assessments, indoor air quality and mold, chemical monitoring, confined spaces, or exposure questions.
Of all the services that our IH team provides to our community, none has been more prominent over the last year than respiratory protection. While our health care professionals manned the front lines taking care of our patients during this pandemic, we have worked to ensure that all employees and students that needed or requested the use of an N95 or other respirator were trained and fit tested to the proper brand and model. We use state-of-the-art, quantitative instrumentation to establish—not simply guess—which respiratory protection provides the proper protective and snug fit that prevents airborne transmission. Ours is not just a job, but a mission that we take with pride and humility in battling and eventually winning the fight against the COVID-19 pandemic.
Need more information or have any questions?