August 31, 2018
Dear Colleagues,
I am pleased to share changes in leadership responsibilities for two members of the University of Miami Business and Finance team.
Interim CIO, Brad Rohrer
Brad Rohrer has been named Interim Chief Information Officer. Brad has been with the University of Miami since September 1997, when he first joined IT at the medical campus as a network specialist. During his more than 20 years of service, Brad has held various leadership positions, including his most recent role as associate vice president. In recent years, Brad and his team have implemented various tools and services to better serve the UM community. These include: a single network for the enterprise, which enables all faculty, students, and staff to access University resources from all campuses; multi-factor authentication (MFA); and an identity management system, which automates and streamlines the provisioning and de-provisioning of accounts tied to the HR and student systems. Brad holds a master's in Management of Technology from the University of Miami.The national search for a CIO continues. Brad's decades of UM experience will be an asset during this interim role, and I am grateful that he has accepted this new and important assignment. Please join me in extending gratitude to Steve Cawley for his dedicated service to the University, and congratulating Brad on this new role.
Data Privacy Officer, Helenmarie Blake
Helenmarie Blake will serve as the University's Data Privacy Officer (DPO). In this expanded role, Helen will assume responsibilities for University-wide data privacy (GDPR, FERPA, and more). UM is on the leading edge among our peers in appointing an institutional data privacy officer. With these responsibilities, she will report to Blanca Malagon, Chief Audit and Compliance Officer.
Helen will continue her existing role as Chief Privacy Officer for UHealth. In this role she serves as a resource to the University medical and research community by navigating regulations such as HIPAA, the Common Rule, and FIPA. During her three years with UHealth, the office has grown to accommodate vital compliance functions as well as initiatives on the cutting edge of innovation. These functions include data brokerage, big data, and helping to establish and support data registries, among others.  In this capacity, she will continue to report to Rafic Warwar, Chief Administrative Officer for UHealth.
Helen holds a J.D. from the University of Miami. She worked in the Office of General Counsel before becoming UHealth's Chief Privacy Officer, and prior to that she was a partner at the law firm of Fowler White Burnett, which has represented the University for a number of years. During her tenure at Fowler, Helen became the practice group leader for the health care group. Helen was also inducted to the national Register of Preeminent Women Lawyers and the national Register of Preeminent Health Attorneys. We are fortunate to have a leader with this breadth of experience take on this new responsibility at the U.
If you have any questions, please do not hesitate to contact my office, or Brad and Helen directly.
Happy Friday, and Go 'Canes!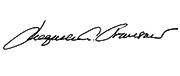 Jacqueline A. Travisano, Ed.D.
Executive Vice President for Business and Finance
and Chief Operating Officer